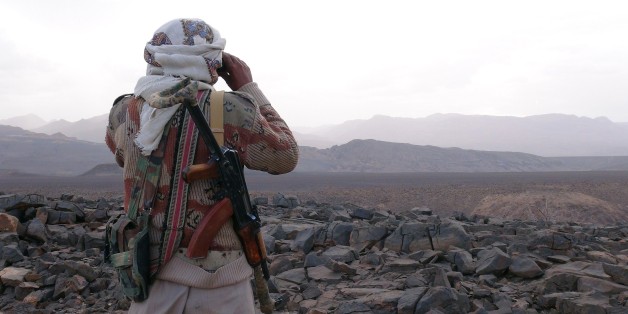 CAIRO, May 11 (Reuters) - A Moroccan F-16 warplane that is part of the Saudi-led force carrying out air strikes in Yemen has gone missing, Morocco's military said on Monday, and Iran-allied Houthi rebels and Saudi forces traded heavy fire across the border.
The disappearance of the Moroccan jet and the intense artillery and rocket battles could imperil an agreed five-day humanitarian truce in Yemen's civil war due to begin on Tuesday.
Backed by Washington, a Saudi-led coalition has been bombing from the air Houthi rebels and army units loyal to ex-president Ali Abdullah Saleh since March 26 with the aim of restoring exiled President Abd-Rabbu Mansour Hadi.
The Houthis' ties to regional rival Iran have rattled the Gulf Arabs and the rebels remain the dominant force in the impoverished and chaotic Yemen, raising concern for the security of Saudi Arabia, the world's top oil exporter, next door.
Morocco is one of eight Arab states to have joined Saudi Arabia in the military intervention against Houthi advances and has had F-16s stationed in the United Arab Emirates (UAE).
"One of the F-16s of the Royal Armed Force put at the disposal of the coalition led by Saudi Arabia to restore the legitimacy in Yemen went missing on Sunday at 6 p.m. local time," Morocco's military said in a statement.
The Houthis' official news channel al-Maseera said on Monday that anti-aircraft guns had downed an F-16 over in the remote Wadi Nashour area in the northwestern province of Saada, a Houthi stronghold bordering on Saudi Arabia.
It provided no details and it was impossible to verify the claim as phone lines were down throughout the war-torn area.
The Houthis said they fired Katyusha rockets and mortars on the Saudi cities of Jizan and Najran near the border on Monday, after the Saudis hit Saada and Hajjah provinces in Yemen with more than 150 rockets.
Saudi planes also struck Houthi positions in the central city of Taiz and in the oil-producing province of Marib east of the capital Sanaa, which is under Houthi control.
DEVASTATION FROM ARTILLERY
Saudi-owned Ekhbariya TV showed Saudi buildings ripped open by apparent artillery shells but said there were no casualties. Houthi TV reported Saudi artillery and air strikes on civilian areas and said 13 people were killed.
At least 10 Saudi soldiers and border guards have been killed by shelling across the border. A Saudi jet crashed into the Red Sea after the start of the campaign in March and both pilots were rescued.
More than six weeks of air strikes by jets from the Sunni Muslim Gulf monarchies have failed to significantly push back the Shi'ite Muslim Houthis and militia and army units loyal to Saleh, who was forced from power by a popular uprising in 2011.
The Houthis accepted a five-day humanitarian ceasefire proposed by Saudi Arabia on Sunday but said they would respond to any violations of the pause.
Riyadh had said on Friday the truce could begin on Tuesday if the Iranian-allied militia agreed to the calm, which would let in badly needed food and medical supplies for civilians caught in zones of conflict.
A group of 17 international humanitarian groups working in Yemen said on Sunday that a five-day truce was not enough to provide sufficient relief to the large number of Yemenis affected by the crisis. They demanded a permanent ceasefire to halt a "rapidly deteriorating humanitarian crisis."
The relief agencies also condemned a Saudi warning to residents of Saada province on Friday to leave the area before it came under attack.
"Warning civilians does not exonerate the coalition from their obligation to protect civilians and civilian infrastructure, and we have seen in the last days that the warnings have not been enough to spare civilian lives," Save the Children's country director in Yemen, Edward Santiago, said.
(Reporting by Aziz El Yaakoubi in Morocco, Mohammed Ghobari in Cairo and Praveen Mennon in Kuala Lumpur; Writing by Sami Aboudi and Noah Browning; Editing by Mark Heinrich)
SUBSCRIBE AND FOLLOW
Get top stories and blog posts emailed to me each day. Newsletters may offer personalized content or advertisements.
Learn more