Eyewitnesses tell Action News that several cars are "on their side," but one is "ripped in half, torn apart and upside down."
BREAKING: Amtrak train derails in Philadelphia, multiple injuries reported http://t.co/xysYlTvl0N @NBCPhiladelphia pic.twitter.com/vrEPMTCALl
Crash is in Philadelphia's Port Richmond neighborhood. #Amtrak Train 188. Witnesses say there are injuries. pic.twitter.com/OYfyUWwBns
Medics tending to people on stretchers. pic.twitter.com/1W3pF0ycrQ
Video I took moments after crash. People trying to open the door and get off the train. pic.twitter.com/fJ2bxXfmhG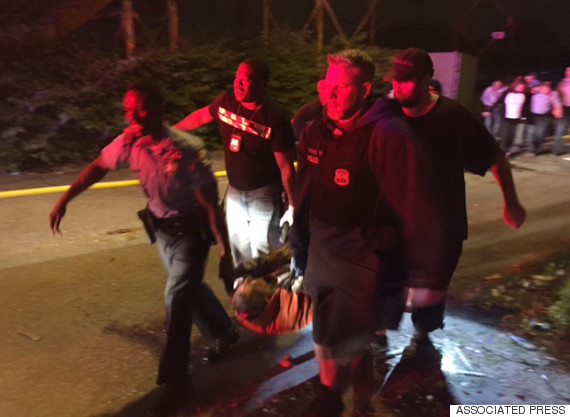 A passenger is carried following an Amtrak train crash near Philadelphia. (AP Photo/Paul Cheung)
More scenes of first responders tending to victims. pic.twitter.com/QsLYnh2mhN
NEW VIDEO from scene #AmtrakCrash @6abc pic.twitter.com/ekaBKfv0AB
NBC Nightly News staffer @Janelle_News was on the Amtrak train. She describes screaming and bloodied passengers. pic.twitter.com/KQrc8iTCMD
Amtrak train derailed. Loud crash. Smoke filled the train. People that were able to walk to an exit tried to get door open and climb off.
Police and firefighters helping people into ambulance. pic.twitter.com/AXjQ5rMdiO
Im on @Amtrak train that just crashed. Im ok. Helping others. Pray for those injured.
@Amtrak @msnbc @NBCNews pray for these passengers. pic.twitter.com/mksZNy7eqo
Related on HuffPost:
Amtrak Train Crash In Philadelphia
SUBSCRIBE TO & FOLLOW THE MORNING EMAIL
Get top stories and blog posts emailed to me each day. Newsletters may offer personalized content or advertisements. Learn more