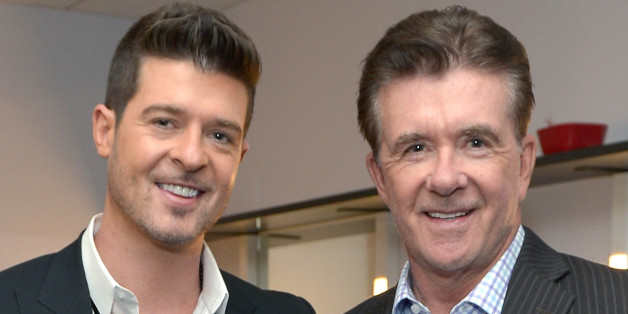 It's hard to feel sorry for Robin Thicke, but no child should have to think about his parents getting it on, let alone doing it to his own music.
While visiting Us Weekly's offices in New York City, former "Growing Pains" star Alan Thicke and his wife Tanya Callau dropped the TMI bomb that when they get intimate, to the 68-year-old actor's son's music. Ew.
"When we do get freaky, we love [Robin's song] 'Sex Therapy,'" Callou, Alan's wife of 10 years and Robin's stepmother, told Us Weekly. "You have to admit, it's a great song to get in the mood."
Uh, no. We don't have to admit anything, and neither does Robin Thicke, apparently:
Dad, I heard what you said to @usweekly... I need you to give back all of my music. Immediately. @Alan_Thicke
So while the musician's father and stepmother get down to "Sex Therapy," the "Blurred Lines" singer may now be seeking some plain old therapy.
Also on HuffPost:
Celebrity Parents With Little Mini-Mes
SUBSCRIBE AND FOLLOW
Get top stories and blog posts emailed to me each day. Newsletters may offer personalized content or advertisements.
Learn more