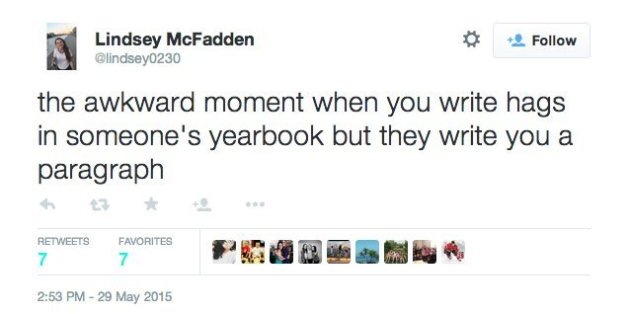 Every week, we round up the best 140-character quips and insights from our esteemed blogging team -- and other equally awesome teen tweeters. Scroll down to read the latest batch and share your own suggestions by following @HuffPostTeen!
If I cry to the guy who's gonna fix my computer do U think he won't judge me for having a Zanessa screensaver??
Sorry can't go to prom anymore it's Harry Potter weekend goodbye
me: mum I wish I had green eyes instead of black bro: but then they wouldn't match ur soul me: me: me: did u just
I got a blank space, baby,

And it's that paper due tomorrow.
"I'm gonna write" I say but I really mean I'm gonna sleep and watch Netflix and maybe even read a book but I'm definitely not gonna write
I JUST ATE AN ENTIRE FAMILY SIZED PIZZA I AM CLEARLY NOT MATURE ENOUGH TO HANDLE A BANK ACCOUNT AND BEGIN PUTTING TOGETHER LIFE SAVINGS
PSA: LAUGH MORE WORRY LESS AND FLUSH PUBLIC TOILETS WITH YOUR FOOT NOT YOUR HANDS
the awkward moment when you write hags in someone's yearbook but they write you a paragraph
Hulu Plus should change their name to Netflix Minus
the sound my retainer makes when i take it out in the morning is really sexy
SUBSCRIBE TO & FOLLOW LIFESTYLE
HuffPost Lifestyle is a daily newsletter that will make you happier and healthier — one email at a time. Learn more