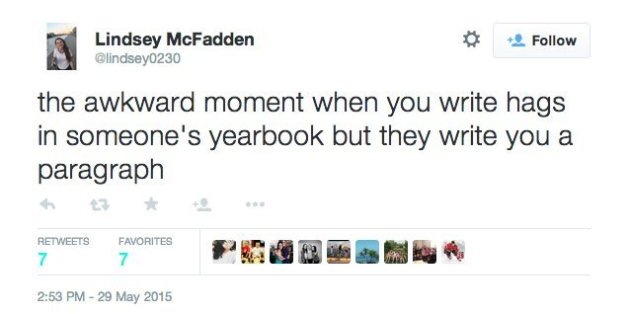 Every week, we round up the best 140-character quips and insights from our esteemed blogging team -- and other equally awesome teen tweeters. Scroll down to read the latest batch and share your own suggestions by following @HuffPostTeen!
If I cry to the guy who's gonna fix my computer do U think he won't judge me for having a Zanessa screensaver??
Sorry can't go to prom anymore it's Harry Potter weekend goodbye
me: mum I wish I had green eyes instead of black bro: but then they wouldn't match ur soul me: me: me: did u just
I got a blank space, baby,

And it's that paper due tomorrow.
"I'm gonna write" I say but I really mean I'm gonna sleep and watch Netflix and maybe even read a book but I'm definitely not gonna write
I JUST ATE AN ENTIRE FAMILY SIZED PIZZA I AM CLEARLY NOT MATURE ENOUGH TO HANDLE A BANK ACCOUNT AND BEGIN PUTTING TOGETHER LIFE SAVINGS
PSA: LAUGH MORE WORRY LESS AND FLUSH PUBLIC TOILETS WITH YOUR FOOT NOT YOUR HANDS
the awkward moment when you write hags in someone's yearbook but they write you a paragraph
Hulu Plus should change their name to Netflix Minus
the sound my retainer makes when i take it out in the morning is really sexy
SUBSCRIBE AND FOLLOW
Get top stories and blog posts emailed to me each day. Newsletters may offer personalized content or advertisements.
Learn more