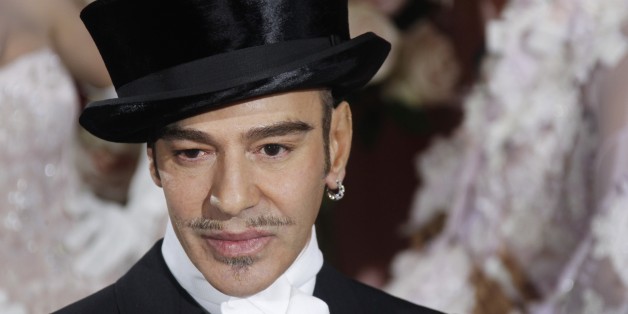 On Thursday night, Galliano spoke in London alongside Rabbi Barry Marcus of London's Central Synagogue at a Jewish educational event. According to The Guardian, he came clean as he took the stage:
"I am an alcoholic. I am an addict," he said. "This is in no way an excuse. We alcoholics and we addicts are not responsible for our disease. However, I do take complete responsibility for my recovery and making amends."

He added: "I get a daily reprieve from this disease and that comes from total abstinence."
The designer said burnout was one of the factors behind his vicious rant back in 2011, a time when we was creating 32 collections a year as head designer for Dior and for his own label. Though he took a long hiatus from fashion following the incident, he was recently hired as creative director of fashion house Maison Martin Margiela.
A rabbi may seem like the least likely person to help Galliano, but the Guardian reports Marcus has been instrumental in the designer's recovery. Not only did the rabbi sit front row at Galliano's first Margiela show in January, but he told the audience Thursday night that the designer should not be treated "more harshly" than an "endless list of celebrities" who have made controversial statements about Jewish people, and asked for everyone to show "a little graciousness."
Also on HuffPost:
Craziest Fashion Controversies & Feuds
SUBSCRIBE AND FOLLOW
Get top stories and blog posts emailed to me each day. Newsletters may offer personalized content or advertisements.
Learn more