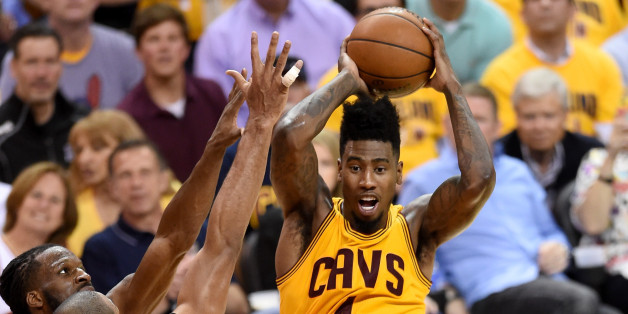 Cleveland Cavaliers guard Iman Shumpert went to see "San Andreas" just before his team opens the NBA Finals against the Golden State Warriors in Oakland, California, on Thursday.
Maybe he should have waited for the DVD release.
The earthquake that devastates the Bay Area in the disaster movie starring Dwayne "The Rock" Johnson left Shumpert shaking in his sneakers.
Shumpert sent out a funny series of tweets suggesting that all the games be moved to Cleveland.
. @warriors i kno yall got home court advantage but after watching San Andreas wit wifey...can we play all 4 in CLE cuz i aint got 🕒 for 🌊
. @TheRock was out there holdin it down when buddy left his daughter. i aint going!!!!! 😩😩😩😭😭😭
. @TheRock teach me this skill bro. i need to know how to drive ✈️🚁🚢 all that bro! i aint goin
All jokes aside tho that movie will have me praying for those type areas. And moral of the story..go see it! We loved it! 💂🏾
"@TinaLaBang: @I_Am_Iman that movie was legit stressful. Need to find me a strong man ASAP lol" 😭😭😭
when @warriors see this movie even they gon wish @cavs would've won more games and played more in CLE 😂 n then again they tryna win too 😂
The Warriors quickly responded to Shumpert's idea to move all the games to the Midwest.
nah, we're good 🏄 https://t.co/IHko1VARUb
While his remarks seem to be in good fun, Shumpert does realize that the odds of an earthquake interrupting a major sporting event in the Bay Area are pretty remote ... right? Oh, wait, never mind.
SUBSCRIBE TO & FOLLOW THE MORNING EMAIL
The Morning Email helps you start your workday with everything you need to know: breaking news, entertainment and a dash of fun. Learn more