JIANLI, China -- Forty-eight hours after an Eastern Star cruise ship sank into the muddy Yangtze river, rescue crews continued a desperate search for hundreds of missing passengers, while families that have all but given up hope made their way to the site of the accident.

Fourteen passengers have been rescued and 24 corpses found since a tornado reportedly caused the ship to capsize on Monday night. Several additional bodies were pulled from the wreckage on Wednesday, but no more survivors were found. According to local media accounts, one scuba diver brought five dead bodies to the surface in the span of 20 minutes. With more than 400 people unaccounted for, the tragedy appears to be China's worst maritime disaster in 70 years.
"There's still hope," Liu Jin of the Information Department at China's Foreign Ministry told The WorldPost Wednesday afternoon. "Even now, until the last minute, they haven't given up hope. But it's very difficult for the rescuers."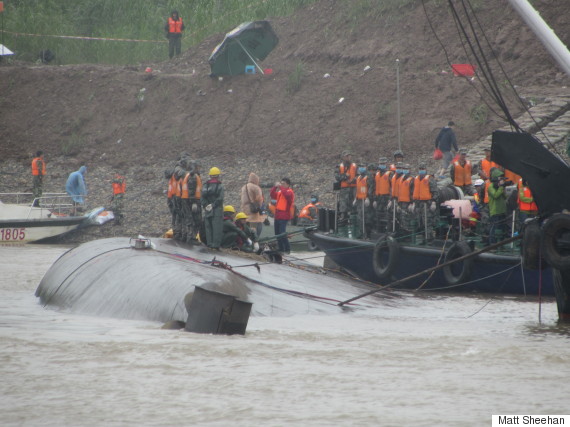 Rescue teams atop the upturned hull of the Eastern Star. Divers continued the search for survivors Wednesday, but found only corpses.
Hundreds of rescue workers and military police coalesced on Wednesday around the site of the accident, which took place in the remote county of Jianli in central Hubei province. But a surplus of workers on the surface often appeared idle, since the real action was taking place underwater.

Officials from the Ministry of Transport reported that 180 scuba divers were on the scene to help work search and rescue operations in shifts. Liu told The WorldPost that search operations were going slowly because divers had to individually search hundreds of cabins on the cruise ship, many of which are locked.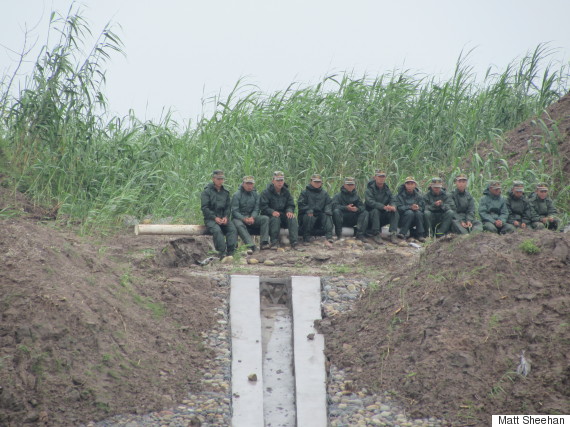 Military police rest near the site of the accident. Teams have been working day and night since Monday, searching for survivors.
Working under a spotlight, rescue teams on Wednesday night began cutting a hole in the part of the boat that remains above the surface. An official told The WorldPost that the procedure might carry some risks to any possible survivors in the wreckage, but that rescue teams were increasingly desperate to grant access to scuba divers. In addition, cranes and cables were reportedly being prepared for a potential attempt to set the boat upright.

Families of passengers aboard the ship also began making their way to the site of the sinking. Tuesday brought flashes of both anger and desperation as loved ones in faraway cities demanded officials provide passenger lists for the boat.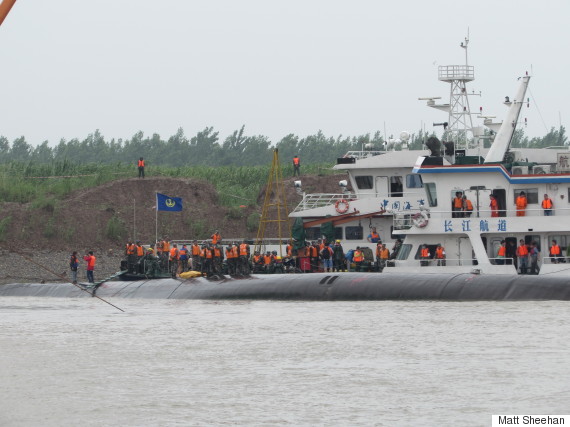 Hundreds of police, soldiers and firefighters were on the scene, but the crucial work was done by scuba divers below the surface.
By Wednesday, however, some of that anger had turned to resignation. Even so, groups of families chartered buses to the crash site. On Chinese social media networks, residents of cities near the accident reported seeing a sudden influx of cars bearing license plates from the coastal provinces, where many of the boat's passengers hailed from. In Jianli, local funeral parlors prepared hundreds of coffins.
Chinese paramilitary police blocked roads for several miles around the crash site. Rescue teams, military trucks and ambulances were allowed in, as were journalists who were given a guided tour of the scene by boat.
Rescue teams carrying supplies along the banks of the Yangtze near where the Eastern Star capsized.
State propaganda authorities attempted to maintain firm control over the narrative, reportedly ordering local media to recall journalists, reprint official state media accounts and focus on positive news, such as successful rescues.

Disasters of this scale can often turn politically sensitive, and public reaction to the accident is being monitored closely. A ferry sinking that killed hundreds of young people in South Korea last year has become a source of significant public anger against the country's president. China's last major transportation disaster -- a 2011 high-speed train crash in Wenzhou that killed 40 people -- also generated major controversy. Social media posts showed workers attempting to bury a derailed train car before a full search and rescue operation had been completed, and the incident turned into a major embarrassment for the Chinese government and the now-defunct Railway Bureau.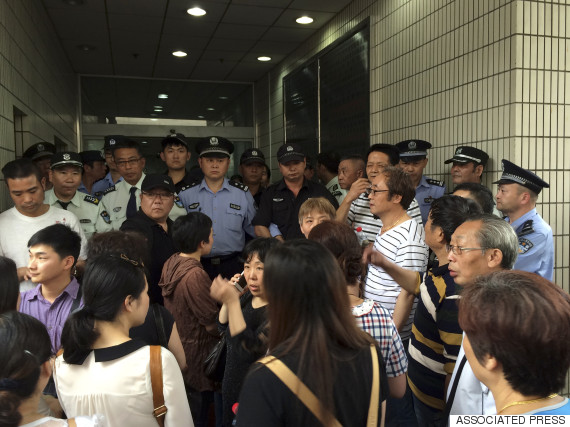 Relatives of Shanghai passengers attempt to storm a government office in Shanghai to demand action. (AP Photo)
According to records from a Chinese maritime agency, the Eastern Star had been cited for safety violations two years ago.
Questions also emerged on Wednesday about some of the captain's decisions leading up to the disaster, including the one to continue the trip despite warnings of a severe storm , The New York Times reported.

Chinese leaders took pains to emphasize that no stone would go unturned in rescue operations. A spokesman for the Ministry of Transport relayed instructions from Chinese Premier Li Keqiang, who visited the site on Tuesday.

"We have to persevere with the principles of first saving people, planning scientifically, organizing effectively and working safely," Li said, according to the spokesman. "Even if there's just a sliver of hope, we absolutely cannot give up."

Also on HuffPost:
Ship Sinks In Yangtze River
SUBSCRIBE AND FOLLOW
Get top stories and blog posts emailed to me each day. Newsletters may offer personalized content or advertisements.
Learn more