Every week, we bring you one overlooked aspect of the stories that made news in recent days. You noticed the media forgot all about another story's basic facts? Tweet @TheWorldPost or let us know on our Facebook page.
JUBA, South Sudan -- As the sound of heavy gunfire neared his home last week, 32-year-old Anthony Bernardo knew the time had come to get his family as far from the epicenter of South Sudan's civil war as he possibly could.
Bernardo, his wife and their three children ran for the only place they could think of that might be safe -- an oil field a few hours' walk from the family's home in Melut, a town in South Sudan's Upper Nile state. The family met with Bernardo's father there, and they slept out on the tarmac at the oil field's airport that night, hoping to get a space on the South Sudanese military planes taking civilians out of the battle zone to the capital city of Juba.
A recent surge in fighting in South Sudan has sent more than 100,000 people fleeing from their homes in the past two months, according to a report this week from the United Nations High Commissioner for Refugees, or UNHCR. The report warned that the number of displaced persons is rising fast.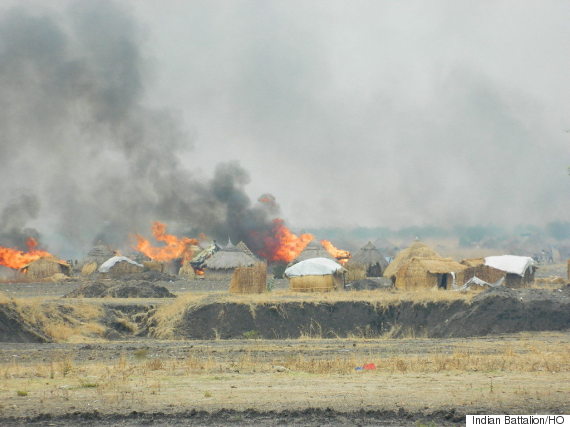 View from Melut's UNMISS base on May 20, 2015. Photo by an Indian Battalion soldier.
More than 2 million people have already been displaced by a war that has largely escaped international attention. South Sudan's government forces are battling with opposition fighters to gain control of as much territory as possible before the approaching rainy season renders large parts of the country inaccessible for several months.
The core of the fighting is taking place in the northern Unity and Upper Nile states, regions with barely functional roads and patchy telecommunication infrastructure. Little information makes its way out of these battle zones.
Several international aid organizations have pulled out of the areas where fighting escalated in recent weeks. The UNHCR warned on Tuesday that around 650,000 people have been cut off from humanitarian aid.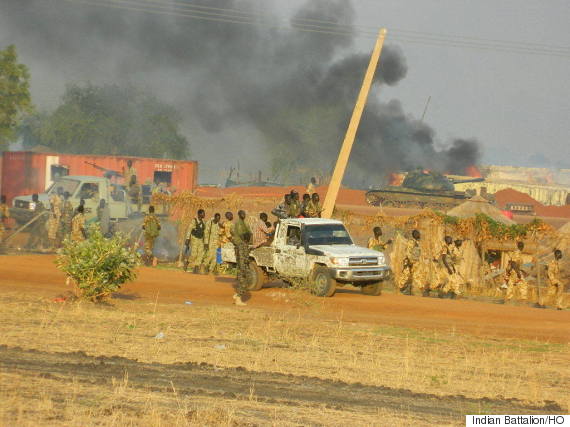 View from Melut's UNMISS base on May 20, 2015. Photo by an Indian Battalion soldier.
The war began as a political conflict between the young nation's leaders in 2013, but it soon grew to include ethnic strife and bloodshed, marked by reports of widespread sexual violence, child abductions and entire communities razed to the ground. Both the government and the opposition forces have been accused by human rights groups of slaughtering civilians based on their tribal heritage.
"Even if you don't have a gun, the government may suspect that you are a rebel because you are part of a tribe that has fought the government," Bernardo told The WorldPost on Tuesday, after his family arrived at the United Nations mission in South Sudan (UNMISS) base in Juba, where more than 34,000 people have sought refuge from the war. "The fighters don't ask questions, they just target you. This has caused a lot of fear, and that is why we left."
Bernardo Ajak talks to The WorldPost about his family's escape from Melut, at the UNMISS base in Juba, June 2, 2015.
Fighting has flared in the area since a government general stationed there defected to the opposition last month. Since then, opposition forces have launched a series of assaults on key towns in the Upper Nile, and threatened to capture the Paloch oil field, the site where Bernardo and his family initially sought shelter. The oil field represents a strategic and economic lifeline for the government. Two weeks ago, opposition forces said they had taken Melut, the Bernardo family's hometown, prompting a fierce government counterattack.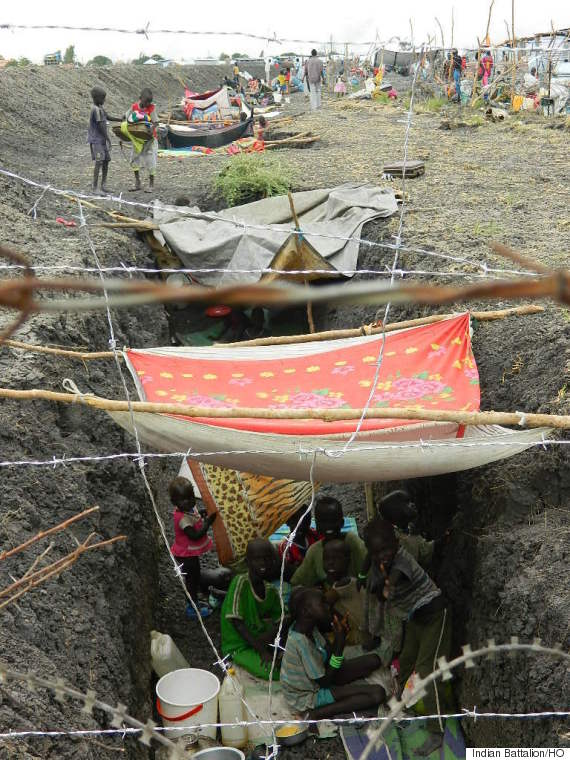 Civilians in the UNMISS base in Melut on May 20, 2015. Photo by an Indian Battalion soldier.
The U.N. peacekeeping base in Melut came under fire on May 20, killing eight civilians who were among the roughly 1,500 people sheltering there. It's not clear who is responsible for the attack, though the U.N. said it is investigating. Images taken by an Indian soldier at the base show the South Sudanese army swarming the area with troops and tanks. The photos also show rows of houses set ablaze and children hiding in dirt ditches.
More than 130,000 people have sought shelter on the UNMISS bases, where basic services are stretched thin but the U.N. soldiers offer some protection from the atrocities raging outside. Despite the soldiers' efforts, fighting has periodically reached inside the U.N. facilities. Residents have dug makeshift bunkers where they crouch in the dirt when bombs fly overhead. After the recent casualties at the Melut base, the U.N. deputy peacekeeping chief urged groups to "stop targeting the U.N. premises."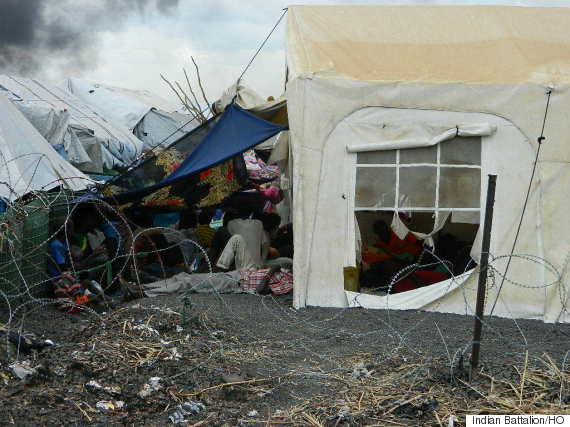 Civilians in the UNMISS base in Melut on May 20, 2015. Photo by an Indian Battalion soldier.
Meanwhile, half a million South Sudanese have fled to neighboring countries. Hundreds of thousands of others are sheltering in the bush in dire circumstances. Bernardo was able to reach some of the friends he left behind in Melut, who said they were too afraid of reprisals to leave their bush hideouts.
His father, 66-year-old Bernardo Ajak, said the fighting in Melut is the worst he's ever seen. "While these people are fighting for power, poor people are fleeing by foot, have no food and are eating whatever they can from the dirt," he told The WorldPost. "With tribalism, we are killing ourselves."
More from The WorldPost's Forgotten Fact Series:
SUBSCRIBE AND FOLLOW
Get top stories and blog posts emailed to me each day. Newsletters may offer personalized content or advertisements.
Learn more