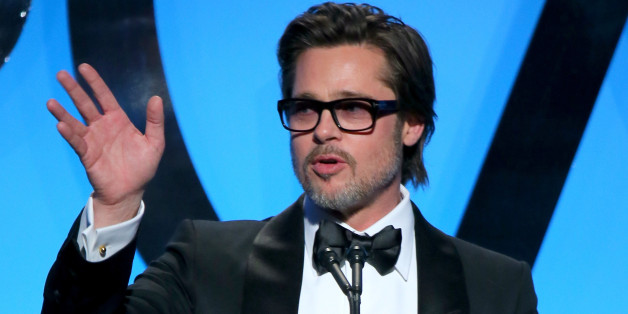 Brad Pitt is heading to a small, big and streaming screen near you.
On Monday, Netflix announced plans to produce Brad Pitt's new satirical comedy, "War Machine," which is loosely based on Michael Hasting's bestseller The Operators: The Wild and Terrifying Inside Story of America's War in Afghanistan. Written and directed by David Michôd ("Animal Kingdom"), the film will follow Pitt's "four-star 'rock star' general" -- sounds a bit like a modern-day Lt. Aldo Raine -- as he commands American troops in Afghanistan. With a radical new approach, Pitt's character is determined to win the war with the help of his "motley staff." Netflix plans to release "War Machine" in theaters and exclusively to its streaming members in 2016.
This news is significant, as it marks Netflix's venture into original filmmaking with one of Hollywood's biggest stars at the helm. The theatrical release also reveals the possibility of Netflix's first Oscar nomination, which could break the company into the filmmaking world in the same way the Emmy wins "House of Cards" garnered helped usher Netflix into original television. Deadline estimates that this roughly $30 million deal would be the company's largest investment in a feature film so far.
Netflix has recently announced other plans for breaking into cinema, such as their multifilm deal with Adam Sandler, documentary partnership with Leonardo DiCaprio and plans to release a "Crouching Tiger, Hidden Dragon" sequel. But a collaboration with an A-lister like Pitt signals something much more monumental. We're not sure what to expect, but don't seem surprised if there's a plethora of thinkpieces in a few years about how Netflix changed the future of cinema.
SUBSCRIBE TO & FOLLOW ENTERTAINMENT
Get top stories and blog posts emailed to me each day. Newsletters may offer personalized content or advertisements. Learn more