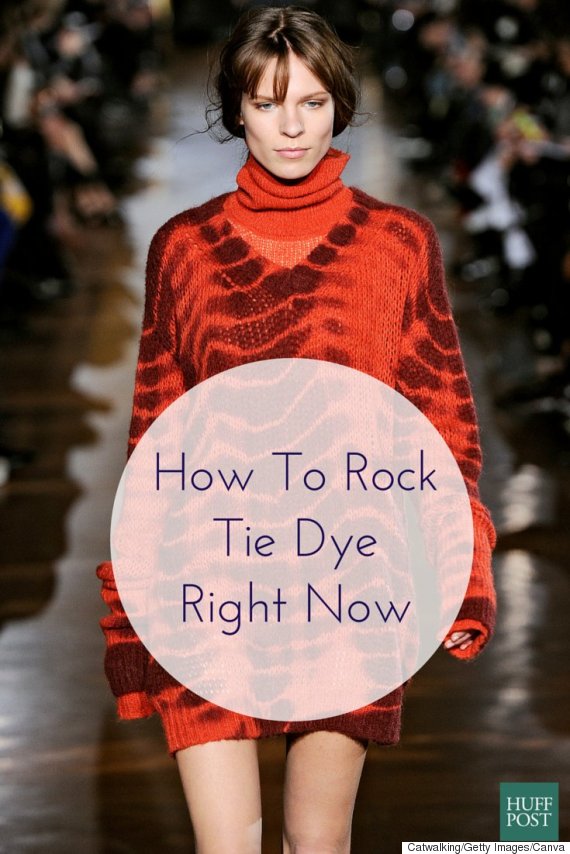 And while the vibrant look was appropriate to wear head-to-toe back then, doing that now will most likely make us look like we're on our way to a Grateful Dead concert.
Not that we've got anything against that, but there's got to be a way to rock tie-dye and stay true to your personal style. In fact, there is -- and we've got a few tips to make it happen.
Check out the ensembles below for some fresh inspiration on how to take tie-dye from retro to modern.
One of the easiest ways to avoid looking too retro is by staying away from multi-colored tie-dyed items. If you stick to one or two hues, your look is a bit more toned down yet still gives off groovy and chic vibes.
Thanks to the patchwork design on this blazer, it doesn't look like your traditional tie-dyed piece of clothing. A pair of eye-catching heels is also an unexpected way to wear the trend.
A tie-dyed skirt might not sound too flattering, but get convinced -- especially since this one boasts a subtle peachy hue and a curve-hugging silhouette.
Elizabeth and James "Sia" cropped top
, $43;
Raquel Allegra skirt
, $245;
DYLANLEX necklace
, $480;
Lucky Brand "Harper" bag
, $158;
Loeffler Randall "Echo" sandals
, $192.
You can really make a simple solid dress pop with a few tie-dyed accessories. This watercolored clutch and espadrille combination packs a punch but doesn't overpower your look.
You're one and done in this flowy top. You can wear it over a pair of stripped shorts, boyfriend jeans or even use it as a swimsuit coverup.