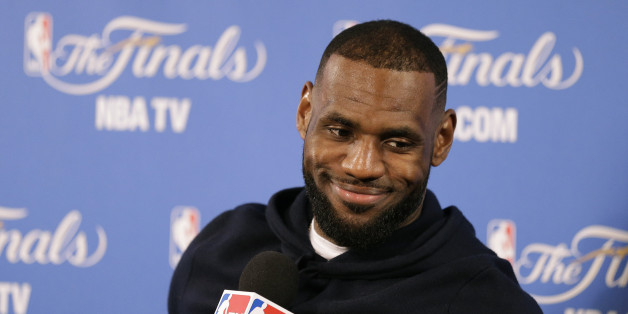 Playing alongside LeBron James is the gift that keeps on giving.
Not only does LeBron selflessly create scoring and playmaking opportunities for his Cleveland Cavaliers teammates, but like any good king, he also likes to share his off-the-court wealth when he wants to motivate his men.
LeBron called the team meeting in a private hotel lounge on the eve of Game 1 against the Golden State Warriors in Oakland. He spoke seriously and earnestly about their tough matchup against the Warriors, the NBA's best team in the regular season, before bringing in food, music and even barbers for players to get haircuts.
"I don't know how he does it, but every day it's something different," shooting guard J.R. Smith said, before laughing. "Watches, sneakers, Beats [headphones], hoodies, book bags. Man, I can't wait to come back next year. I want to see what we're getting next year."
The gifts should get only more creative and extravagant too. In February 2014, on a whim, LeBron had custom WWE title belts made for his Miami Heat teammates, the then defending champions.
Apple Watches in hand, LeBron and the Cavaliers travel back to Cleveland today in advance of Wednesday night's Game 3 clash. The series is tied at 1-1.
Some Cool 2015 NBA Finals Photos
SUBSCRIBE TO & FOLLOW THE MORNING EMAIL
The Morning Email helps you start your workday with everything you need to know: breaking news, entertainment and a dash of fun. Learn more