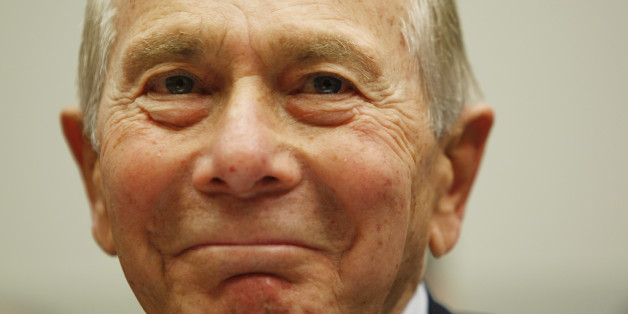 Hank Greenberg's case against the U.S. government in the bailout of American International Group, the insurance behemoth he created and put on a path to catastrophic failure, ended the way it started: as an awkward, enraging and attention-grabbing combination of legal trolling and crisis-era accountability.
Monday morning, Judge Thomas Wheeler of the U.S. Court of Federal Claims ruled that the terms of the government's $85 billion September 2008 bailout were illegal, but did not award shareholders any damages.
As a result, both Greenberg and the government walk away with only partial satisfaction. Greenberg got the legal vindication he was emotionally desperate for, but no compensation. And the government was rebuked, but spared the ignominy of having to pay billions to shareholders for failing to save them billions more than the government already did.
The case started in 2011, when Greenberg argued that AIG's government bailout -- which saved the company from going under during the financial crisis -- was unfair to shareholders. He wanted at least $25 billion in damages.
Judge Wheeler wrote in his decision that "the Government treated AIG much more harshly than other institutions in need of financial assistance." Other financial firms like Morgan Stanley, Goldman Sachs and Bank of America experienced similar liquidity issues at the same time in September 2008. "Thus," Wheeler said, "while the Government publicly singled out AIG as the poster child for causing the September 2008 economic crisis, the evidence supports a conclusion that AIG actually was less responsible for the crisis than other major institutions."
Wheeler said the government's treatment of AIG was "unduly harsh" compared to other bailouts, adding that it was "misguided and had no legitimate purpose, even considering concerns about 'moral hazard.'" The judge also ruled that the Federal Reserve board of New York overstepped its authority when it effectively took over AIG after the bailout.
However, on the issue that will matter to most shareholders -- who, unlike Greenberg, haven't attached their personality to AIG for 40 years -- Wheeler's decision to deny damages was a letdown. Greenberg demanded damages based on AIG's stock price after the bailout was announced. But as Wheeler wrote, "To award damages on this basis would be to force the Government to pay on a propped-up stock price that it helped create ... the Achilles' heel of Starr's case is that, if not for the Government's intervention, AIG would have filed for bankruptcy. In a bankruptcy proceeding, AIG's shareholders would most likely have lost 100 percent of their stock value."
"At the height of the financial crisis, the US government took decisive action to rescue AIG and to protect American taxpayers, the US economy, and the global financial system," an administration spokesperson said in response to the decision. "The Court confirmed today that AIG shareholders were not harmed by those actions. We disagree with the Court's conclusion regarding the Federal Reserve's legal authority and continue to believe that the government acted well within legal bounds."
So the government acted illegally, but it won't be punished. In his decision, Wheeler said that effectively means the government is free to bail out private companies on any terms it sees fit, with no economic consequences. That's an uncomfortable and unsatisfying conclusion, but, he added, "with some reluctance, the Court must leave that question for another day."
This story has been updated with a comment from an administration spokesperson.
SUBSCRIBE AND FOLLOW
Get top stories and blog posts emailed to me each day. Newsletters may offer personalized content or advertisements.
Learn more