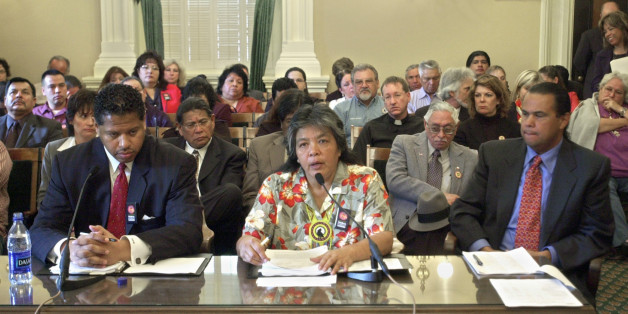 In 2013, Gary Navarro took a job working the slots at the Graton Resort and Casino, an Indian-owned casino in Rohnert Park, California. He was just 45 days into the job when he learned that an effort to unionize the workforce was underway.

"I wasn't too keen on the union at first," explained Navarro, a registered Republican. "Because I didn't know what a union was, I didn't understand what the union stood for."

Navarro hit it off with a union representative and had a change of heart. He took a lead role in the union effort, and now he and his fellow slot workers are members of Unite Here, a union representing service workers.

But Navarro now finds himself at the center of a clash between labor rights and tribal sovereignty. He is a Pomo Indian from the Round Valley Tribe. His casino is owned by Pomo Indians from a different tribe, the Federated Indians of Graton Rancheria. Many tribal casinos are now asserting that a U.S. labor law protecting workers like Navarro does not apply to tribal businesses on tribal lands. Members of Congress from both sides of the aisle seem to agree.

On Wednesday, Navarro was among 60 workers from Unite Here, including 16 employees of tribal casinos in California, who donned red shirts emblazoned with the slogan "All-American rights for all Americans," and packed the Senate Committee on Indian Affairs hearing for a bill that would exempt tribes from the National Labor Relations Act, or NLRA, the Great Depression-era law that covers collective bargaining in the private sector.

The bill reveals ongoing tensions between labor and native rights about whether the National Labor Relations Board, or NLRB, the agency that enforces the law, can adjudicate disputes between tribal businesses and their workers. The jurisdiction of the NLRB in Indian Country has been a contentious issue between unions and Indian Nations that extends back to the Indian Gaming Regulatory ACT of 1988.

Indian casinos are at the heart of the issue. In 2012, Indian casinos brought in $28.13 billion, representing 43 percent of all U.S. casino gaming revenue for that year. The largest market for Indian gaming is California, where the Graton Rancheria brought in $190 million during the first six months of 2014 before their partner, Station Casinos of Las Vegas, stopped publicly reporting its income.

To unions, Indians Casinos are big business. "The issue of tribal sovereignty is being used as a phony way to say, 'We're for sovereignty,' when in fact, [they're] really just for the money behind this," said Maria Elena Durazo, vice president of civil rights and immigration for Unite Here. Unite Here, which represents 270,000 hospitality workers in North America, including 6,000 workers from Indian casinos, insists that the NLRA's jurisdiction extends to tribal businesses on Indian reservations.

Although Indian casinos may be operated by major players in gaming -- in Graton's case, the Las Vegas-based Station Casinos -- they are owned by tribal members, rather than the Donald Trumps or Sheldon Adelsons of the world. Many casinos are relatively small operations that use their revenues to fund vital services such as education, law enforcement and healthcare that would otherwise be severely underfunded by the Bureau of Indian Affairs.

Tribes argue that the NLRA regulates relations between workers and private employers. As sovereign governments, tribes insist, the NLRA does not apply to them.

An exemption from the NLRA would prevent tribal casino workers from unionizing through the same legal framework that protects most U.S. workers. So far, the NLRB appears to be leaning toward the unions.

In a 2004 decision, the board dismissed the San Manuel Tribe's petition for exemption from the NLRA. In its ruling, however, the board stated that exemptions might apply under specific treaties and also in disputes entirely internal to tribes.

Last week, the NLRB declined to assert jurisdiction over the Chickasaw Nation's WinStar World Casino in Oklahoma. In its decision, the board cited sovereign rights specific to the Chickasaw in the 1830 Treaty of Dancing Rabbit Creek.

Other tribes, such as the Saginaw Chippewa and Little River Band of Ottawa, both in Michigan, have also challenged NLRB jurisdiction. On Tuesday, an appeals court ruled that the Little River Band of Ottawa must stop enforcing provisions of tribal labor laws that conflict with the NLRA.

Meanwhile, the Saginaw Chippewa case against the NLRB is still being adjudicated. Like the Chickasaw, the Saginaw Chippewa have built their case on treaty rights, which they argue reserve "broad, general rights" of self-government to tribes on the reservation. But California tribes such as the San Manuel -- and Navarro's employer, the Graton Rancheria -- do not have treaties that were ratified by the United States. Under the precedent set by the San Manuel ruling in 2004, the NLRA still presumably applies to Indian casinos in the state.

However, that could all change with the Tribal Labor Sovereignty Act, versions of which have been introduced in both chambers of Congress. The Senate bill passed a voice vote in the Committee on Indian Affairs on Wednesday. The legislation, which was introduced by Sen. Jerry Moran (R-Kan.) and sponsored exclusively by the eight Republicans on the committee, would amend the NLRA to exempt tribes as employers under the act.

Critics like Unite Here say the bill "will strip thousands of American workers from rights and protections." Proponents, like Sen. John Barrasso (R-Wyo.), the committee chairman, say the bill "will empower tribes and respect them as sovereign governments." These two opposing positions suggest a tradeoff: You can have labor rights, or you can have native rights -- but you can't have both.

The conflict has made Democrats uneasy, with many members of the Committee on Indian Affairs reluctant to comment on the issue. Democratic Sens. John Tester (Mont.) and Heidi Heitkamp (N.D.) are expected to cross the aisle and vote in favor of the bill. Both Senators hail from western states with strong tribes.

In a statement through his spokesperson, Tester explained, "I support the critical role the NLRB plays in protecting workers, but my vote on this issue is a vote in support of tribal sovereignty." Despite having reservations about the bill, Tester consulted with tribal leaders in the state, who were unanimously in favor.

Navarro will testify at the hearing for the House version of the bill on Tuesday. The legislation has a strong chance of passing both GOP-controlled chambers, as Republicans in general have been hostile toward the NLRB, threatening its funding and powers.

If the legislation makes it all the way to President Barack Obama's desk, he will face the same political tradeoff as his fellow Democrats in Congress. Since his visit to the Standing Rock Indian Reservation last June, Obama has emerged as a strong advocate for Indian Country, particularly on issues facing youth. But despite his current battle with organized labor over his massive trade deal, the president has also been closely aligned with labor unions.

These divisions extend down to Navarro, whose background as a Pomo working the wildly successful casino of his kin is unique. (The vast majority of workers at tribal casinos are not Native American.) Navarro's experience and family history reveal just how deeply this bill cuts into the fraught relationship between the first peoples of this land and workers over scarce resources and opportunities.

In the early days of the United States' control over California, Navarro's Pomo ancestors faced enslavement and massacre at the hands of settlers, and were eventually forced onto the impoverished Round Valley Reservation. Had Navarro's ancestors fled south to live with their Southern Pomo kin, Navarro might have been an owner rather than a worker at the Graton Resort and Casino.

Instead, his great-grandmother grew up in a trailer with 14 siblings on the Round Valley Reservation before running away and marrying a migrant worker. Navarro, their great-grandson, has maintained that tradition of work. He believes union rights are important to preserving good work.

"I'm not super rich, I'm nowhere near it," he said, "but I've worked my ass off for everything that I get, and I'm not going to stop!"
Also on HuffPost:
U.S. State Capitol Buildings
SUBSCRIBE AND FOLLOW
Get top stories and blog posts emailed to me each day. Newsletters may offer personalized content or advertisements.
Learn more