Note: The following is the fourth post in a series of posts from GET//OUT regarding its BLgT USA 50-state food equality tour. Each week, we'll be sharing updates, photos and more as the BLgT team travels across the country helping to raise awareness about and celebrate LGBT equality.
Week four and 11 sandwich states in. Goodbye to the Northeast, hello upper Mid-Atlantic! Unlike much of the Northeast, New Jersey, Delaware and Pennsylvania have a more checkered past regarding LGBT equality. Jersey, known for its incredible Jersey tomatoes, is the most LGBT-friendly of the three, being the first state to outlaw "conversion therapy," but it stalled on marriage equality until 2013 when a court ruling brought equality to the state. While Pennsylvania has marriage equality as of 2013, there is no statewide anti-discrimination statute that is inclusive of LGBT people. Not so yummy.
Delaware is in the middle with pretty comprehensive laws on the books (marriage, non-discrimination), but lacking in areas regarding family friendly policies for same-sex couples and transgender inclusion. These states haven't always boasted rainbow colors, but we met local leaders making it happen on the ground. And we had some epic sandwiches to boot.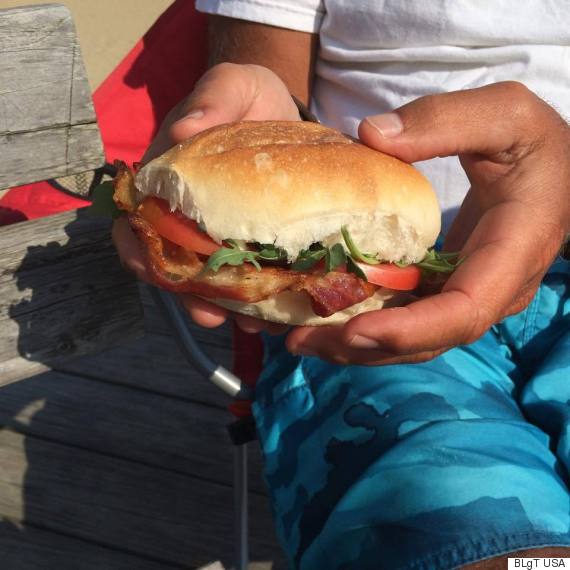 Bacon, lettuce, green (basil) mayo, and tomato, on house bun made by Hoagitos. BLgT summer proceeds to Pride Center of New Jersey.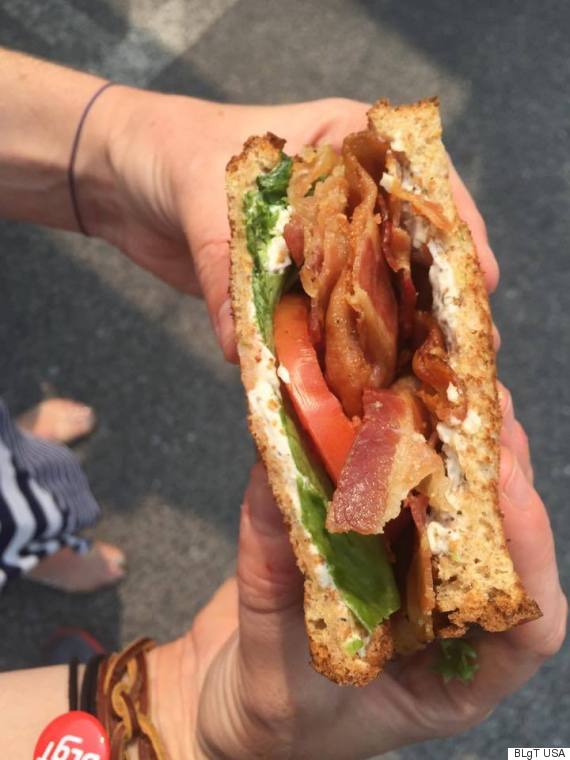 Bacon, lettuce, garlic Neufchatel cream cheese, and tomato made by Arena's with BLgT summer proceeds to CAMP Rehoboth.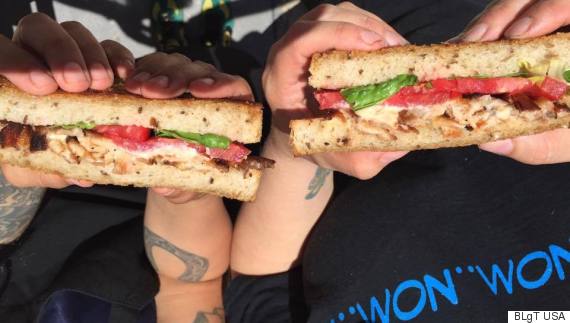 Garlic bacon, romaine Lettuce, Jersey tomatoes and homemade smoked onion mayo on grilled rye bread made by Chefs Jennifer Zavala of Cherry Bomb and Georgeann Leaming of Suppa. BLgT summer proceeds to the Attic Youth Center.
1. Allies are important. Duh.
Thus far, ALL 11 of our BLgT USA partner restaurants have been owned by straight allies, with only two of our chefs identifying as openly LGBT, Chef Vanessa Miller and Chef Ash Fulk. In conversation with these owners, they highlight the importance of giving back to the community, especially communities that directly support their businesses. Rehoboth, DE and Asbury Park, NJ are both considered "LGBT beach destinations".
The Hoagitos founders, Emma Spagnola, Mark Spagnola, and Terrance McGill, spoke about the importance of equality for them. Emma, who "killed it" according to husband, Mark, said: "There are underlying currents in our country and the world, where not everyone is treated equally. In order for us to really come together as a nation, and for everyone to live the happy life they are absolutely entitled to, everybody has to be treated equally." Brud Lee, General Manager of Arena's Cafe in Rehoboth Beach, Delaware, and one of seven Arena's locations throughout the state, added: "I've lived in Rehoboth my entire life and it's a very gay friendly resort. We've really grown into an integrated community here...Our restaurant has been around for 25 years and we've grown with CAMP Rehoboth and the city of Rehoboth to develop this really wonderful community. If we can help them do their jobs just a little bit better, it's an honor for us to be a part of that."
2. Community centers are getting it done. And the need is legit.
We heard that LGBT community centers were the boots on the ground for the movement, and now we know it's true. CAMP Rehoboth was founded in Rehoboth Beach, Delaware, 25 years ago by Executive Director Steve Elkins and his partner, Murray Archibald, who is also Board President. "When we started CAMP Rehoboth, Rehoboth was an island of tolerance in a sea of homophobia. Now, it is an island of tolerance in a sea of outlet malls!" Steve said with a laugh before continuing, "Our community is not a one issue community. It's not gay or straight anymore, it's about quality of life."
3. Youth homelessness is for real.
As many as 40 percent of homeless youth identify as LGBT, many of whom have been forcibly kicked out of their homes. It is because of this that centers like our Philly community partner, the Attic Youth Center, provide at least one hot meal a day, career education, and job training. Alyssa Mutryn, the Director of Development at The Attic, pointed out the struggles she has witnessed youth face, "There are youth that we've seen come through the foster system, and their foster families kick them out for being gay too, even though their parents did. We see youth living in their own apartments who have been kicked out. They're rebuilding their life from a traumatic experience."
It's not just youth who are facing exclusion from the foster care system. Across the country, LGBT people are continuing to be excluded from the adoption and foster care processes. Michigan just passed a law, allowing for religiously affiliated adoption agencies (who receive tax-payer money) to refuse placement for youth in homes with same-sex couples. A similar law has been debated in Texas and Florida, making real life versions of The Fosters less likely for the time being.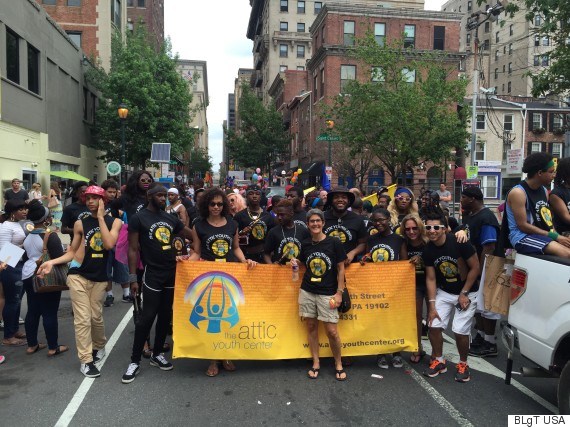 Youth from the Attic marching in Philly Pride
4. Bigger is not always better.
After two 100+ people BLgT USA events in New York and Connecticut, the more intimate events this week were a welcome change of pace. With about 30 people at each event, we were able to have longer conversations and learn more about people getting out for our events. One of our favorites was 81 year old Harriet (Asbury Park, New Jersey) who spoke about her relationship with her brother: "We were four girls, and the last one was a boy. I think [my brother] thought we wouldn't like [the fact that he is gay]. All of a sudden it was the topic of conversation, and everything fell into place the way it should. He's so wonderful and is so good to all of us."
5. If you are in Philly for Pride weekend, every night ends at Woody's.
For future reference: Men, women, gender non-conforming, LGBTQ, straight, and all colors of the rainbow -- we'll see you at Woody's next year. Thanks for the love, Philly.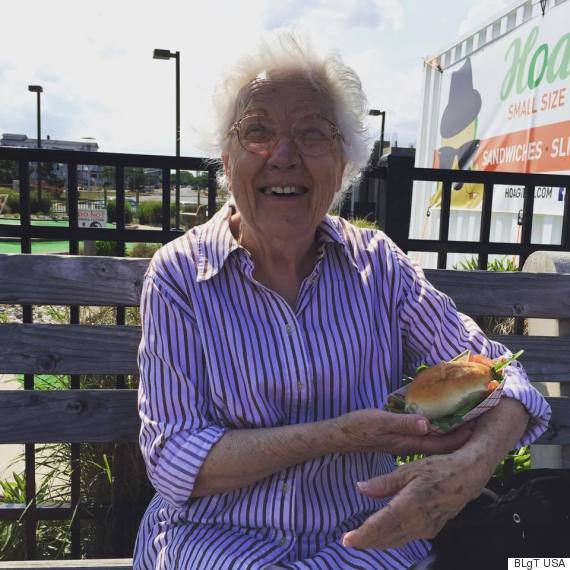 Harriet, Asbury Park, NJ BLgT Lover
This week we head west...to the Midwest. See you soon Ohio, Detroit, Illinois. While this part of the country is not always known for its LGBT hugs, this upcoming leg of the journey represents where some of the hard movement work is happening, and where BLgT conversations are needed most. We're excited for the challenge, and cannot wait to take Cleveland, Detroit, and Chicago by storm. We will be at Momocho tonight from 5-630 PM with a modern mexican twist on the BLgT. Game time! Get ready, Lebron, there's a new sandwich in town…
For delicious photos of our events, check out our Facebook Page. For more Sandwich Stories from the road, get after our Blog. Also, we <3 email. For questions, sponsorship, and/or media inquiries, email us: go@getout.io
SUBSCRIBE TO & FOLLOW TRUMP'S FIRST 100 DAYS
How will Donald Trump's first 100 days impact YOU? Subscribe, choose the community that you most identify with or want to learn more about and we'll send you the news that matters most once a week throughout Trump's first 100 days in office. Learn more