By Valentina Della Seta
Styling Patrizia Massala
©Photos by Donata Clovis
Two days to discover not-to-be-missed places in the most beautiful city in the world, with local guests and an unexpected iconic bag (can you recognize it?)*
Are You Sure You Know Rome?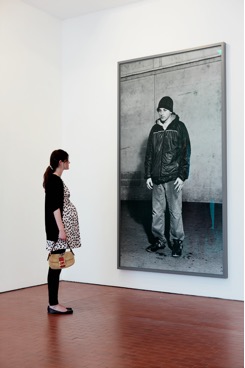 Lorcan O'Neill
Via Orti d'Alibert, 1 (Trastevere)
The gallery of Irish gallerist Lorcan O'Neill is hidden in a small street in Trastevere. Important artists of the international contemporary scene are hosted here, including Francesco Clemente, Tracy Emin and Anselm Kiefer. Laurita Parrilla (in the picture with a Fendi Baguette), who manages the gallery, received us just before the opening of the solo exhibition of the Canadian photographer Jeff Wall. The opening of every show is celebrated with a toast in the soccer field of the senior center just across the way.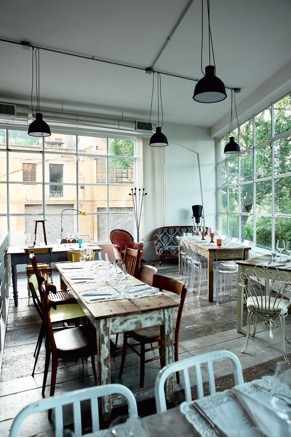 Lanificio Cucina
Via di Pietralata 159/a
Tel 064501384 (Pietralata)
Until a short time ago the Lanificio wool mill of Pietralata was just an enormous, disused and falling down warehouse overlooking the Aniene in a district far from the center of the city. And then it became a culture and entertainment center, with dancing classes, vintage markets, and, most importantly, the Lanificio Cucina restaurant. Here it is possible to sit at a table in front of the large windows in front of the river, drink a glass of organic wine and eat refined organic dishes. It's always open.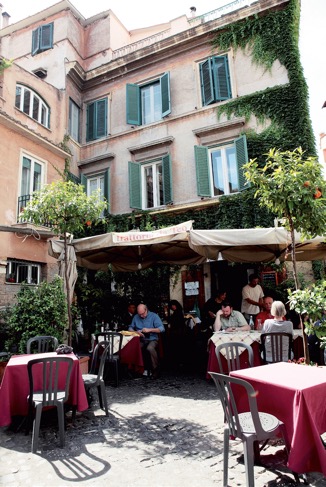 Trattoria da Teo
Piazza dei Ponziani 7 (Trastevere)
Sitting on the riverbank facing Tiberina Island lies one of the best restaurants in the city, tended to with passion by its chef, Teo, and his family. It serves plentiful portions of rigatoni amatriciana, artichokes Roman or Jewish-style and fine dishes of fish, such as prawn tempura or tomatoes stuffed with seared prawns, pachino tomatoes and basil. In times of economic crisis the latest craze with younger people is to have a pre-bill made, to see if they can allow themselves to eat more.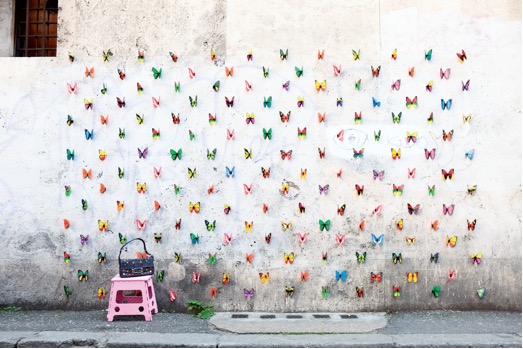 Street art on the wall
Behind the historical façades of Roman residential buildings hide breath-taking apartments. If you are staying a few days you can rent a house in Rome going through the "Wonder where to Stay" agency. wonderwhereto- stay.com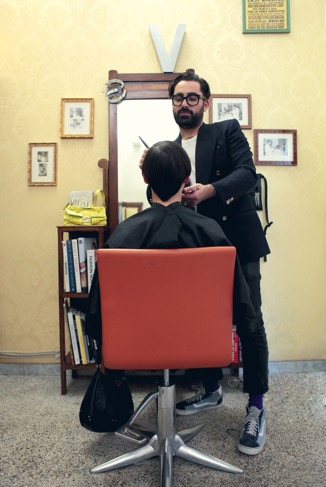 Via Urbana 52 (Monti district)
Behind the historical façades of Roman residential buildings hide breath-taking apartments. If you are staying a few days, you can rent a house in Rome going through the "Wonder where to Stay" agency.

In the district of Rome which is becoming the night life centre of the city even the hairdressers adapt. This is the case of Mod Hair Salon, which has the atmosphere of a barber from days gone by, but which is much more sophisticated, with vintage rock'n'roll décor. Open every day until 21.00, 22.00 on Wednesdays (you could find yourself sitting next to Riccardo Scamarcio who has his hair cut by Emanuele Vona or his partner Oni).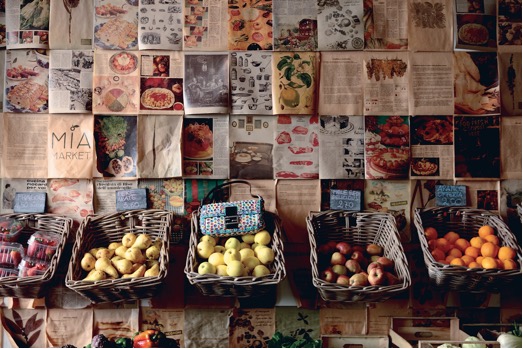 Mia Market
Via Panisperna 225 (Monti district)
A wall covered with pages from old-fashioned botanical and recipe books, with baskets of organic fruit and vegetables resting on them. A counter with jars of fresh pulse salads and then cold meats, cheese and bread. At Mia Market you can do the shopping and take it home, or sit down to eat, reading the newspaper in a homely environment.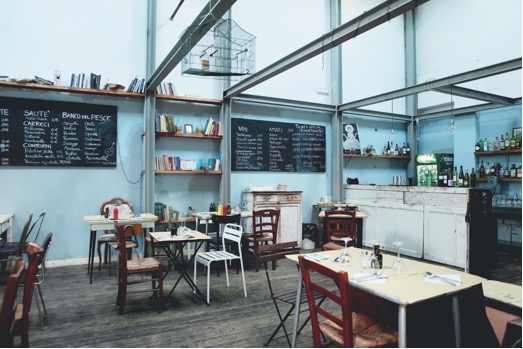 Fish Market
Via di Pietralata, 149b (Pietralata)
A successful experiment for this fish restaurant-market with its amusing and cheap formula: "choose your fish, how you'd like it cooked, take it to the table and eat." The fish market is to be found in the converted industrial area of the Lanificio mill. Only open evenings. Bookings taken at 3470095009.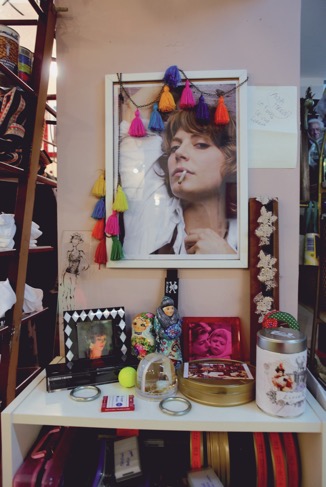 Livia Risi
Via dei Vascellari, 37 (Trastevere)
The atelier of the designer Livia Risi, granddaughter of the film director Dino, is a reflection of her world. Once through the door, you find yourself in a room of toys or dreams, which take their shape in the clothes designed by Livia, in the accessories and in the photos and drawings hanging on the walls.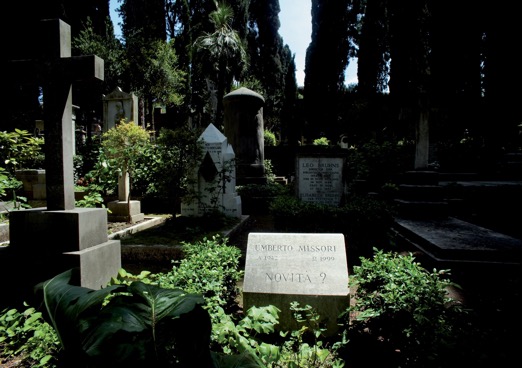 Protestant Cemetery
Via Caio Cestio 6 (Testaccio)
A large garden in the shade of the Cestia pyramid, with the tombs of poets, artists and travelers. In Protestant style: no macabre details, but English lawn, sculptures, maritime pines, field flowers and cats wandering around. Look for the gravestone with the inscription Novità? Where a curious intellectual rests, and whose friends, still today, go to tell him what the gossip of the moment is. In the Cemetery's bookshop, you can find Alessandro Rubinetti's romanticized guide book (publisher Iacobelli) to be read while sitting on the bench in front of John Keats' grave.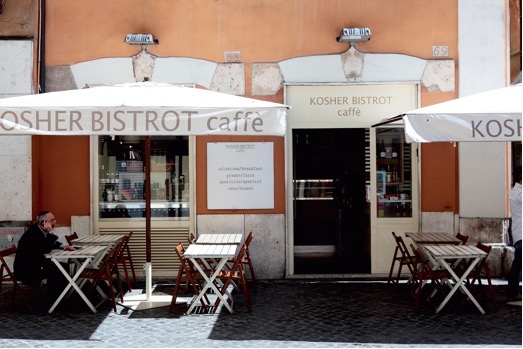 Kosher Bistrot
Via Santa Maria del Pianto 68-69 (Ghetto)
The first place of its kind to open on Piazza Costaguti, renovated by the architect and designern Marco Valenti in the style of the 30s revisited. Tables on the square to sit at and taste hot or cold dishes, kosher (like everything else) wine and mint tea with almonds at any time of day.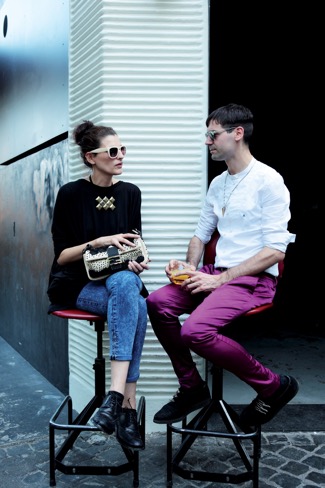 Il Baretto
Via Garibaldi 24 (Gianicolo-Trastevere)
An old bar in a unique position between the Gianicolo and the Trastevere, Il Baretto was renovated by Allegra Marinucci and her husband Richard Ercolani with vintage decor, in stark contrast to the steel window frames and the large windows on the terrace. It opens at 5 p.m. Expect aperitifs and a DJ set.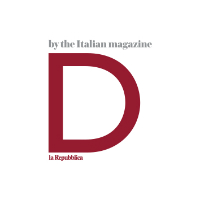 SUBSCRIBE AND FOLLOW
Get top stories and blog posts emailed to me each day. Newsletters may offer personalized content or advertisements.
Learn more