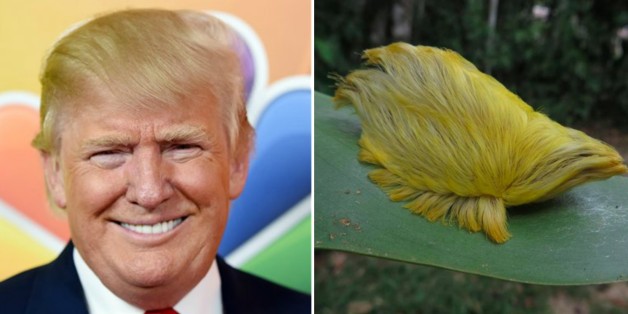 The caterpillar's "hair" is actually a set of hollow, venomous spines. According to the University of Florida, the insect is one of the most poisonous caterpillars in the United States.
View post on imgur.com
The flannel moth caterpillar isn't the only creature on the planet who's vying to be hair twins with Trump.
There are these hirsute cats...
View post on imgur.com
Donald Trump toupee
@Intasunikwa @AuntyMoney This cat rocks the Donald Trump. pic.twitter.com/YeSqXoTwxN
This is our red golden pheasant named "Donald Trump" because of his wonderful hairdo.
A dog who rules the comb-over...
Donald trump inspired #combover ! Who do you think looks better? This #dog or Mr Trump himself? #funny #morninglaugh pic.twitter.com/5ho8UtyDQ8
This dog, who's trying way too hard:
View post on imgur.com
A bunny, guinea pig and horse have also attempted to get in on the action:
#ReasonsMyLifeIsGood: this pic of a bunny that looks like @donaldtrump pic.twitter.com/R2f2eUVPAB
I cant trust someone as our president that has hair that looks like a guinea pig #DonaldTrump pic.twitter.com/Yaw9Vl40iz
View post on imgur.com
And it seems this pooch may one day run for president:
If Donald Trump can run for president then so can my dog Lou. pic.twitter.com/BWcIvhi6KX
If you're envious of these stylish 'dos, don't fret -- even you can don Trump hair. Time.com has you covered with a simple step-by-step guide, just fold, blow dry, sweep and hair spray like crazy.
How to get hair like Donald Trump http://t.co/5hyw1TTlIS pic.twitter.com/oh2c3h0Nz4
Also on HuffPost:
Craziest Lines From Trump's Speech
SUBSCRIBE TO & FOLLOW THE MORNING EMAIL
Get top stories and blog posts emailed to me each day. Newsletters may offer personalized content or advertisements. Learn more