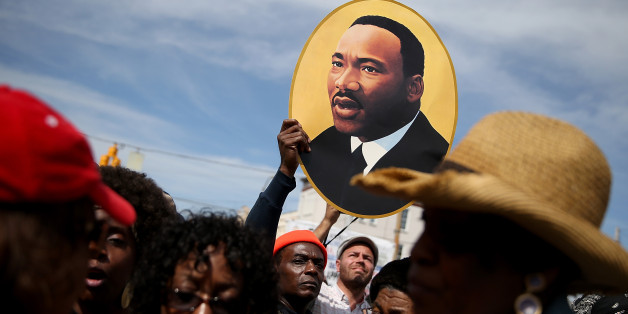 But as the manhunt continues, the King Center's tweets remind us that even in moments of terrorism and horrific violence against black lives, we must "defy hate with truth and love."
And, despite the number of times we must declare it, #BlackLivesMatter.
Read the truthful tweets below:
1) In this tragic, disheartening hour, we embrace #Charleston and the #EmanuelAME family and community.
2) We believe that nonviolence is not just about our physical response, but includes our social media communication. #Charleston
3) We HAVE to be conscious of how our social media response can cause unrest or be detrimental.
4) In the spirit and philosophy of Dr. King & Mrs. King, we are diametrically opposed to racism, hate, war and violence. #Charleston
5) As the #Charleston police deem this horrific act a hate crime, we pray vigorously that this person's hate does not cultivate more hate.
6) We implore the #Charleston police to be continuously vigilant in apprehending the person (or persons) responsible.
7) It is critical that we bring "solid thinking," wisdom, a global, comprehensive perspective and transparency to the table. #Charleston
8) We must defy hate w/ truth & love. Truth: A hateful, terroristic act. Love: A response that transcends hate. #Charleston #Nonviolence365
9) At this point, it should certainly be beyond clear why #BlackLivesMatter is an earnest cry and an affirmation. #UnderSiege #Charleston
10) To the black children across this nation who are inundated with news and experiences of racism and injustice: Your life MATTERS.
11) Terrorism: Violent acts intended to create fear, perpetrated for an economic, religious, political, or ideological goal. #Charleston
12) "...sweltering summer of the Negro's legitimate discontent..." #MLK #Nonviolence365 pic.twitter.com/hr2lq6BCc6
SUBSCRIBE TO & FOLLOW BLACK VOICES
Get top stories and blog posts emailed to me each day. Newsletters may offer personalized content or advertisements. Learn more