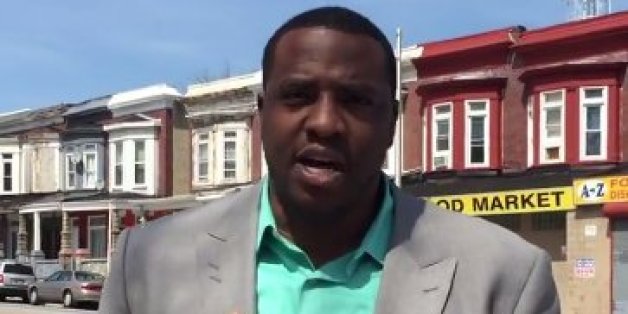 A black man who survived being shot eight times in 2004 had a powerful message for Charleston shooting suspect Dylann Storm Roof -- and he left it on Roof's Facebook page.
Roof, a white man, was arrested on Thursday for the fatal shooting of nine people in a historically black church in Charleston, South Carolina, on Wednesday. As police hunted Roof before his capture, the suspect's Facebook page was largely barren of comments, making the words of Marcus Stanley stand out even more.
"I don't look at you with the eyes of hatred, or judge you by your appearance or race, but I look at you as a human being that made a horrible decision to take the lives of 9 living & breathing people," Stanley, a musician, wrote on Roof's page. "Children do not grow up with hatred in their hearts. In this world we are born color blind. Somewhere along the line, you were taught to hate people that are not like you, and that is truly tragic."
Stanley was shot on a Baltimore street in 2004 after being confronted by a gang apparently conducting an initiation rite. He told CBN News in December that he no longer has feeling in his right hand. Police actually drew chalk around him as though he were a dead man, Stanley recalled to the site Godreports, but he was saved by eight hours of surgery.
In April, Stanley wrote on his own Facebook page that he had held on to "bitterness, anger, and rage" before turning to God and managing to forgive the gang member who pulled the trigger.
Stanley's plea to Roof reminded the suspect that he must still bear the burden of his heinous act.
"You have accomplished nothing from this killing, but planting seeds of pain that will forever remain in the hearts of the families that lost their lives and countless hearts around our country," Stanley wrote. "If you're still out there and you have your phone with you ... Give your heart to Jesus and confess your sins with a heart of forgiveness."
Stanley did not immediately respond to The Huffington Post's request for comment.
Here is Stanley's full comment on Roof's Facebook page, which has since been disabled: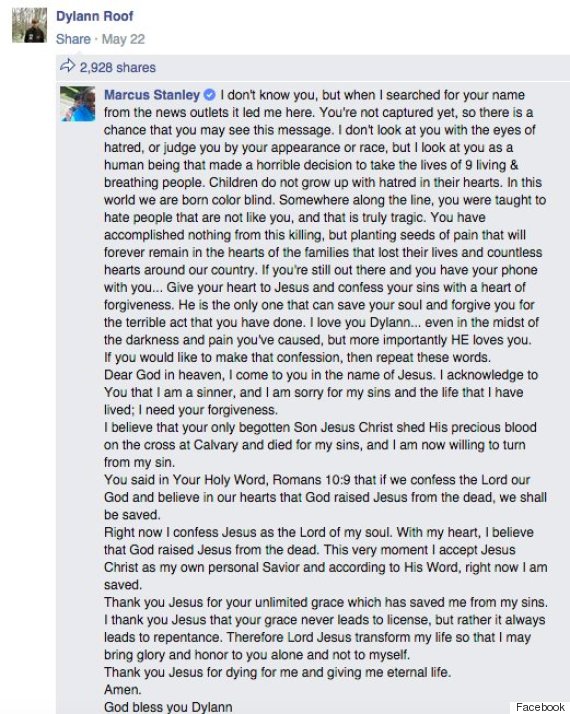 Below is a video that Stanley posted on his own Facebook page about his own experience at the hands of a gunman in 2004.
8 shots - 1 Angel - Miracles - Share the hope

instagram.com/marcusastanleyI forgave the man who shot 7 bullets from a 45 caliber gun into my chest, and 1 bullet into my arm. One bullet remains inside my spine that is unable to be moved due to risk of paralysis & I lost the feeling in my right hand permanently. For years I held, bitterness, anger, and rage... but in 2010 when I gave my life to Jesus, I realized that I had to forgive to be free. Forgiving those who hurt you can save your life. #TeamJesus Instrumental Piano Worship album available at smarturl.it/MarcusStanley Marcus Stanley View The 700 Club story by Charlene Aaron - CBN News at http://mycbn.com/go/15852 #ShareTheHope
ALSO ON HUFFPOST:
Charleston Church Shooting
SUBSCRIBE TO & FOLLOW THE MORNING EMAIL
The Morning Email helps you start your workday with everything you need to know: breaking news, entertainment and a dash of fun. Learn more