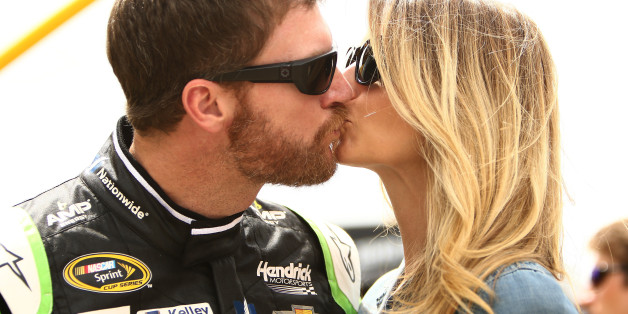 Dale Earnhardt Jr. is engaged.
The couple, who started dating in 2009, shared their happiness on social media this week.
I'm completely overwhelmed with love & joy. Happiest girl in the world! I love you so much @DaleJr pic.twitter.com/lBxbFLJ4xf
Oh just strolling along with my fiancé 💃🏼☺️ pic.twitter.com/ofeQhfM0rx
Looking forward to the rest of my life with this amazing girl. https://t.co/EuGZbCVynM
As NASCAR.com notes, the news of the couple's engagement may indicate that Earnhardt has "gotten over -- or has it least gotten better -- at that whole being afraid of jewelry thing."
Earnhardt has previously admitted that he finds jewelry "creepy," but in a February interview, he conceded that Reimann could wear her engagement ring around him when the time came.
"We've talked about it," he told USA Today. "I'm not going to be held accountable [to wear a ring] and she can do whatever she wants. I figure if we ever get to that step in life, I owe her that much. I'll have to put up with [her wearing a ring]."
SUBSCRIBE TO & FOLLOW THE MORNING EMAIL
The Morning Email helps you start your workday with everything you need to know: breaking news, entertainment and a dash of fun. Learn more