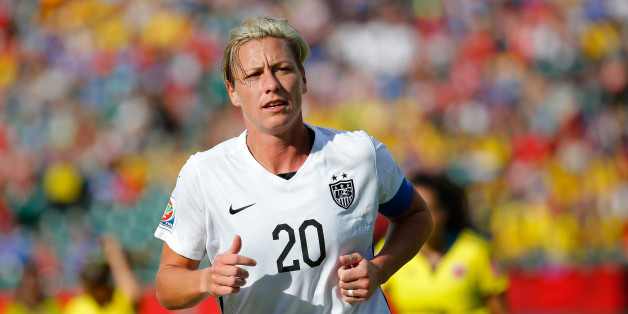 Abby Wambach may have some unmatched foot skills on the pitch, but this time, she's apologizing for putting her foot in her mouth.
After the U.S. Women's National Team's 2-0 victory over Colombia on Monday, the star soccer player slammed the referees for giving her teammates Megan Rapinoe and Lauren Holiday a yellow card each during the match.
Both Rapinoe and Holiday had earned yellow cards during a previous match against Australia in group play. Paired with Monday's yellow cards, they are now out of the quarterfinals game between the U.S. and China on Friday.
I'm not in the referee's head, and that's something I definitely take ownership of and apologize for, because I don't know what the referee is thinking. She is doing the very best job she can; so are the players. We're all trying to do our very best, and that's what I feel bad about, because I think that's what was taken a little bit wrong in what I said, because I don't know what she was thinking, and nobody can. She's doing the best she can, and for me, I have the utmost respect for all the referees who are refereeing these games and all the players because this is such a big event. In no way did I intend to offend her -- and my biggest apologies if it was offensive in any way."
Wambach has often been outspoken, particularly on the issue of turf versus grass on the fields at the FIFA Women's World Cup. And largely, due to her global recognition and in many ways, her place as the face of women's soccer, her comments have a much larger platform and come under much more scrutiny.
But with the U.S. already down two players -- and Wambach's performance on the field leaving much to be desired in the tournament -- probably best for the striker to just stay focused going forward.
FIFA Women's World Cup 2015
SUBSCRIBE TO & FOLLOW THE MORNING EMAIL
The Morning Email helps you start your workday with everything you need to know: breaking news, entertainment and a dash of fun. Learn more