The Supreme Court has ruled in favor of marriage equality, making same-sex marriage legal in all 50 states. Check out the Internet's best reactions to the decision below: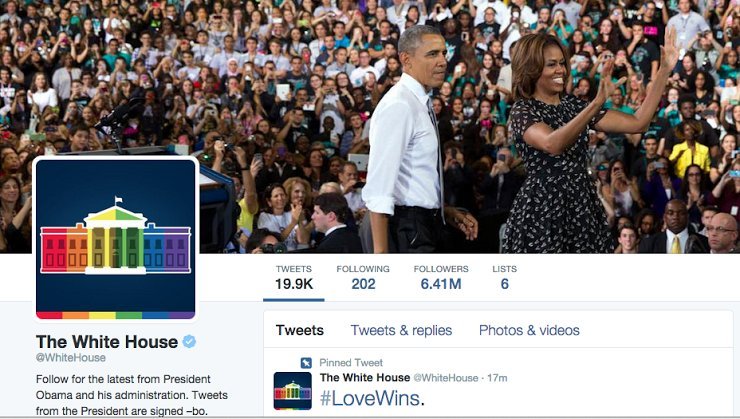 You can't tell us we're equal except for this one pink asterisk. 'Gay Marriage's Moment,' http://t.co/PtODc3zOZV pic.twitter.com/XJotInjJld
#LoveWins. pic.twitter.com/s5aiwIsFz8
Love matters. Happiness matters. #AcceptanceMatters #Marriage #Equality https://t.co/JhR3lU5rPo
Put your name next to Hillary's if you agree: http://t.co/xQtbs2Af31 pic.twitter.com/rjZpaBSLSL
Proud. pic.twitter.com/9J44PCYeuQ
Our new favorite map. RT if you live in a state where marriage equality is law. pic.twitter.com/7GlCwCJHyg
BREAKING: WE WON! #SCOTUS has struck down bans on marriage for same-sex couples nationwide! #IDO pic.twitter.com/DZ8SUfDvbu
#LoveWins and we couldn't be happier! pic.twitter.com/mPeK337N2l
I'm proud to be a fan of a show which embraces equality. I'm also so proud of America. #LoveWins. #MarriageEquaility. pic.twitter.com/K98S3eYHjS
Love is in the air at #SCOTUS! Add your name to celebrate this historic occasion at http://t.co/FWnRped1jJ #LoveWins pic.twitter.com/lbNfofSE8n
We're on board. Diversity strengthens us all & today we celebrate #MarriageEquality & the landmark #SCOTUS decision. pic.twitter.com/gqej2xMzIU

GLAAD responds to historic #SCOTUS decision in favor of marriage equality http://t.co/gqE2alTB2o pic.twitter.com/8ahHa0HI0U
Life is more vibrant when #lovewins. Cheers to the road ahead. pic.twitter.com/KPNmx9uV8o
SUBSCRIBE AND FOLLOW
Get top stories and blog posts emailed to me each day. Newsletters may offer personalized content or advertisements.
Learn more