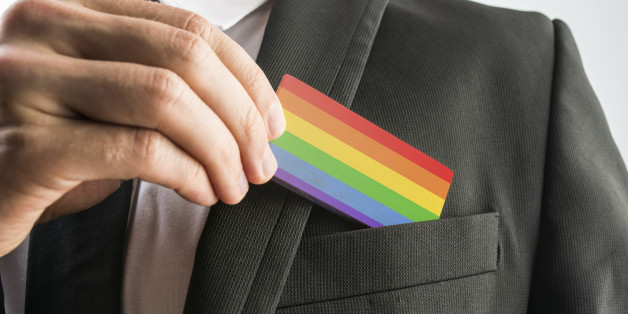 Gajus via Getty Images
A lot can change in 20 years, even in the halls of corporate America.
In 1996, the now-infamous Defense of Marriage Act, or DOMA, was signed into U.S. law, blocking the federal government from recognizing state-sanctioned same-sex marriages. But since then, a growing tide of advocacy has mounted in support of the LGBT community, thanks in no small part to activists and influential allies in the corporate world. Fast forward to June 2015: Our country exploded into rainbow-colored celebration with the Supreme Court's landmark decision in favor of marriage equality, and some of the loudest cheers rang out from boardrooms and executive offices.

We've partnered with Monster to spotlight several companies that have taken the mission of inclusion to heart, working to increase diversity within their ranks and pushing for progress in the public eye. Their commitment is helping to define what the next 20 years of change might look like.

Most Outspoken Ally: Starbucks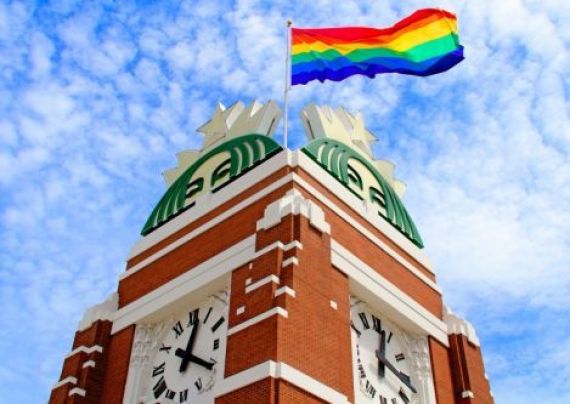 In recent years, Starbucks CEO Howard Schultz has been an outspoken advocate for LGBT issues, most notably during remarks at an annual shareholders meeting in 2013. Responding to an investor's question, which was critical of the effect the company's support for same-sex marriage might have on the bottom line, Schultz famously pointed out the 38 percent returns shareholders received that year -- and told Thomas Strobhar, the Starbucks shareholder and founder of the conservative Corporate Morality Action Center, that if he believed he could do better, he was welcome to try. "It's a free country," Schultz said, "you could sell your shares at Starbucks and buy shares in other companies."
In addition to such supportive pronouncements, a rainbow Pride flag flew above Starbucks' Seattle headquarters in 2014. And the coffee company has moved the needle forward for the LGBT community through non-discrimination policies, equal benefits for same-sex couples and, most recently, training for 2,000 employees who will take part in the Seattle Police Department's Safe Place program, which aims to support LGBT victims of violence.
MIP (Most Improved Player): Barilla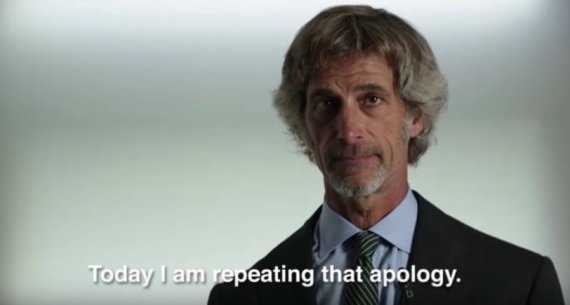 When Guido Barilla, chairman of the iconic Italian pasta company, mentioned on an Italian radio program in 2013 that he'd rather feature "traditional" families than same-sex couples in Barilla advertisements, the international outcry came fast and furious. But, to the company's credit, they quickly apologized -- twice -- and didn't stop there. Within weeks, Barilla's leadership rolled out a raft of corporate culture fixes, including the appointment of its first-ever Chief Diversity Officer, and a worldwide campaign to engage and inform customers about the importance of LGBT inclusivity. Their hard work paid off: just a year later the company earned a perfect 100 rating from the Human Rights Campaign's Corporate Equality Index (HRC CEI), which ranks major corporations on how supportive they are of LGBT employees. Barilla has kept that top rating for two years running.
Best Dressed: Frito-Lay/PepsiCo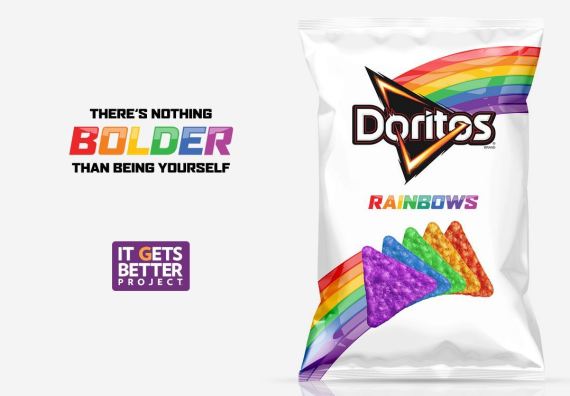 A number of companies have incorporated the Pride flag into their advertisements and even their products. In particular, Oreo splashed a colorful version of their cookie across ads in honor of Pride Month in 2012, raising the hackles of conservative groups threatening boycotts. (Unfortunately for our taste buds, the company never had plans for the rainbow-creme confection to exist beyond those promotions.)
In September 2015, Frito-Lay, owned by PepsiCo, took that necessary step forward, gifting the world with what was arguably the coolest show of support for LGBT causes: rainbow-colored Doritos. Dovetailing with the company's first-ever sponsorship of the Dallas Pride festival, the limited-edition chips -- which tasted like Cool Ranch -- were mailed exclusively to people who had donated $10 or more to the It Gets Better Project, a campaign offering help to bullied LGBT youth. The rainbow-themed giveaway resonated on a visceral level with employees who saw their company outwardly displaying its commitment to inclusivity for all the world to see (and eat).
Biggest Surprise (Or, Greatest Effort In An Industry That Typically Hasn't Seen A Lot): Chevron
We take #Pride in being the first major energy company to offer domestic partner benefits. pic.twitter.com/tbN0TjXkET
Expert Market, a B2B marketplace, ran its own analysis on the 2015 Corporate Equality Index, finding that certain industries, like retail and hospitality, had much better records on LGBT advocacy and workplace support than others. In particular, oil and gas companies had a lot of work to do -- only 3 percent of companies achieved a perfect 100 score. That's what makes Chevron, a Fortune 500 energy provider, stand out: By offering benefits to same-sex couples and transgender workers, including nondiscrimination practices in company policies, and fostering a supportive workplace through PRIDE, an employee network, Chevron is ahead of its peers in making itself part of the solution.
All-Around Awesome: Google
The first #pride flag flew in 1978. Today we understand what it really means. #LoveWins https://t.co/lWttIejpKj pic.twitter.com/gIHwu7JRA2

— Google (@google) June 26, 2015
Nearly everyone agrees, if you're looking for the gold standard in corporate action on behalf of the LGBT community, look no further than Google, now under parent company Alphabet. Not only have they scored a 100 CEI rating every year since 2006, but they also topped a new awards list released this past December from the LGBT media heavyweight Logo. Google has signed onto briefs lobbying the Supreme Court on behalf of marriage equality in 2013 and 2015, emblazoned LGBT-themed Google Doodles across its search engine, consistently speaks out against anti-LGBT discrimination, and even dipped into its coffers to make sure its workplaces were as inclusive as possible, paying gay employees in domestic partnerships more to make up for their lopsided tax burden before same-sex marriage became legal nationwide. Just what we'd expect from the company that vows to do no evil.
Monster's core mission is connecting candidates of all backgrounds to jobs they love. Find opportunities here.
FOLLOW HUFFPOST