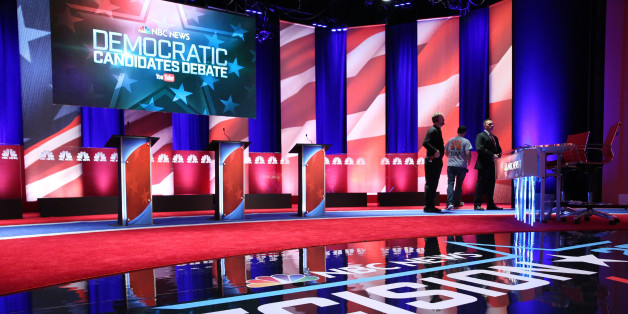 Andrew Burton via Getty Images
The three Democratic presidential hopefuls are gathering Sunday in Charleston, South Carolina, for a debate hosted by NBC News and the Congressional Black Caucus Institute.
Former Secretary of State Hillary Clinton, former Maryland Gov. Martin O'Malley and Sen. Bernie Sanders (I-Vt.) will be participating in the event, which kicks off at 9 p.m. EST.
Watch the debate and read live updates on the action below:
01/17/2016 11:18 PM EST
Michigan Governor Responds To Flint Talk
Political statements and finger pointing from political candidates only distract from solving the Flint water crisis.

— Governor Rick Snyder (@onetoughnerd) January 18, 2016
01/17/2016 11:13 PM EST
Immigration Doesn't Make The Cut For Questions
NBC moderators didn't ask about immigration at all during the two-hour debate -- even though Democrats have made the issue central to many of their platforms and there are plenty of questions to be asked on how they would handle current problems.
Among them: The Supreme Court could soon decide the fate of President Barack Obama's deferred action relief programs. Democrats in Congress are fighting with the administration over deportation raids on mothers and children. More and more mothers and children are coming to the U.S. from Central America without authorization. And debate continues in Congress over refugees, including whether certain nationalities should be kept away.
Immigration got a quick mention at the beginning, when Hillary Clinton and Martin O'Malley mentioned immigration reform as goals.
But it didn't come up again until the final minutes of the debate, when O'Malley brought up immigration on his own. Asked what he wanted to say that had not been talked about, the former governor said he wanted to discuss the "deplorable number" of detention centers of families, the financial problems facing Puerto Rico, and violence and instability in Honduras, El Salvador and Guatemala.
-- Elise Foley
01/17/2016 10:58 PM EST
O'Malley Butchers Ben Franklin Quote
While addressing a question about cybersecurity and civil liberties, former Maryland Gov. Martin O'Malley (D) butchered a Benjamin Franklin quote. But apparently everybody does.
He said he agreed with the founding father when he said, "No people should ever give up their privacy or their freedom in a promise for security."
But the actual quotable quote is: "Those who would give up essential liberty, to purchase a little temporary safety, deserve neither liberty nor safety."
You can't really blame O'Malley. Apparently the butchering is very common when talking about freedom from government intrusion in the digital age.
Where O'Malley did get it right was when he brought up mass surveillance and the current national security apparatus, which he said was lacking in constitutional safeguards.
"I do believe we need an adversarial court system there," O'Malley said, in a reference to secret courts that typically rubber-stamp surveillance warrants against citizens without any meaningful checks. "We need a public advocate. We need to develop jurisprudence so that we can develop a body of law that protects the privacy of Americans in the information and digital age."
There are "certain immutable principles that will not become antique things in our country," O'Malley said.
And the civil liberties community rejoiced.
-- Cristian Farias
01/17/2016 10:54 PM EST
Bernie Sanders: Stop Trying To Make Me Attack Hillary Clinton
Moderator Andrea Mitchell asked Sanders to address his recent comment calling former President Bill Clinton's affair with Monica Lewinsky "totally, totally, totally disgraceful and unacceptable."
Sanders was visibly frustrated by Mitchell's question, telling her it "annoys" him when everyone tries to pit him against Hillary Clinton.
"I cannot walk down the street -- Secretary Clinton knows this -- without being told how much I have to attack Secretary Clinton," Sanders said. "Want to get me on the front page of the paper? I make some vicious attack. I have avoided doing that. I am trying to run an issue-oriented campaign."
He noted that he talked about Bill Clinton only because someone asked him about it Friday during an Iowa town hall.
Clinton nodded throughout his comments.
-- Amanda Terkel
01/17/2016 10:52 PM EST
And There's Flint...
Bar so low, we are all excited that Clinton mentions Flint minutes before end of this debate.

— jasoncherkis (@jasoncherkis) January 18, 2016
01/17/2016 10:50 PM EST
Hillary Clinton Just Ratted Out Silicon Valley
If you believe what you read, intelligence community officials have begged Silicon Valley executives to work with the government to give it a key to various encryption technologies so its spy networks could get a better sense of what's going on. Silicon Valley, though, committed to its users' privacy, has told the government to take a hike.
That's the story, at least. Asked about the tech community-government interaction, Hillary Clinton pushed back on the notion that the government has been shut down.
"That is not what I heard. Let me leave it at that," she said with a knowing smile that suggested Silicon Valley had in fact been open to cooperation.
-- Ryan Grim
01/17/2016 10:42 PM EST
Hillary Clinton's 'Interesting' Relationship With Vladimir Putin
Hillary Clinton looked a little unprepared when asked what her relationship with Russian President Vladimir Putin was like.
"It's, um," Clinton said, pausing for a few moments to gather her thoughts. "It's um, it's interesting. It's one, I think, of respect."
The former secretary of state compared the Russian president and his hostility in Europe and the Middle East to a schoolyard bully, adding that it was important to stand up to Putin -- otherwise, like many bullies, "he'll take as much as he possibly can until you do."
-- Igor Bobic
01/17/2016 10:35 PM EST
Sanders Finds A Disagreement With Clinton On ISIS
A small but important dispute emerged between Sen. Sanders and Hillary Clinton during Sunday night's debate over what to do with respect to the Islamic State.
The two largely agreed about the extent of the threat and Sanders notably declined to criticize Clinton and, by extension, President Obama for allowing the terrorist group to grow in size and influence under their watch.
But when it came to how to deal with the organization's roots in Syria, they differed. Whereas Sanders said that he would like to dismantle ISIS as a top priority and then get rid of Syrian President Bashar Assad, Clinton suggested the two can't be considered separately.
In that regard, she's closer aligned with the Obama administration, which has argued that so long as Assad remains in power, he will be a recruiting tool for ISIS and, as a consequence, make it impossible to eliminate the group entirely.
-- Sam Stein
01/17/2016 10:30 PM EST
NBC Takes A Weird Intermission
CHUCK TODD: This is a [debate] that has really lived up to the billing. We've seen sharp exchanges on guns, health care and Wall Street.
The debate lived up to its billing as a blocked-off period of time in which candidates would be asked questions.
CHUCK TODD: You hear Bernie Sanders talking about revolutionary change.
Yes, yes, we've been watching this election for over a year.
CHUCK TODD: You hear a lot of Hillary Clinton saying she wants to build on the things President Obama did.
Yeaaaah, she was even in his administration and everything, Chuck.
CHUCK TODD: Let's check in with our moderators ... so, what's coming up next, guys?
Did ... no one tell you? There's a debate that's being broadcast on your network tonight. That's why there are all these people and presidential candidates here.
LESTER HOLT: We've covered a lot of ground already but we're going to be talking about ISIS, it's a threat to America, it always polls as one of the top concerns.
Cool, cool. No need to tell us, just do it, it's cool.
LESTER HOLT: There's a lot of debate to come.
Yeah, this is something that your viewers understand but maybe you guys need a few extra minutes to get clear on?
CHUCK TODD: The debate resumes, right after this.
Yep, it sure does, guy.
-- Jason Linkins
FOLLOW HUFFPOST