Matt Damon has pulled in an average of $29 of revenue for every dollar he was paid for his last three films, making him, according to Forbes.com, "Hollywood's Best Investment."
Below: "Strategies for Growing and Protecting Your Matt Damon"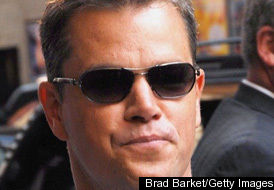 Maximizing shareholder value, one "Ocean's 14" at a time
As with any investment, it is important to understand the Matt Damon market, set clear goals, and, of course, formulate a good back-up strategy.
Diversify Your Matt Damon
Don't put all of your Matt Damon in one basket, as the saying goes. If he's an amnesiac superspy with devastating elbows during the first quarter, make sure he's a sexually-ambiguous chief of spies with devastating boredom during the second.
Avoid Trying to Time the Matt Damon Market
There are going to be ups-and-downs with Matt Damon, and a good investor knows that it's just as important to be patient and weather the occasional "Jersey Girl" as it is to pop the Veuve Cliquot and celebrate the good fortune of "The Departed."
Take a Few Risks
2002's "Gerry," a Gus Van Sant film about "a friendship between two twenty-something men...tested to its very limits when they go on a hike in a desert and forget to bring any water or food with them" was considered a foolish risk at the time, but in fact...Actually, let's forget this tip.
Think Long-Term
Who could have known that the same Matt Damon who provided only a two-dollar return on investment in his role as Brendan Fraser's anti-Semitic WASP nemesis in School Ties would be the industry leader that he is today? Yesterday's two-dollar Matt Damon is today's $29 Matt Damon is tomorrow's $7,000,000 Matt Damon (that's a $7,000,000 gross for every one dollar Matt Damon gets paid, and it's completely made up, as was the previous figure given for "School Ties." It turns out that it's hard to track down the salaries of teen actors in movies that came out 15 years ago.)
And finally...
Have a Good Defensive Strategy
Things may be going well now, but investors shouldn't shy away from taking a few defensive steps. It's never a bad time to become more liquid and take a little off the table in anticipation of a bear (or "Affleck") market.