THE BLOG
Federline Files for Custody: the Hotter of Two Evils?
Kevin Federline, ex-husband of Britney Spears, has filed for increased custody of their two children in sealed documents submitted to a California court today.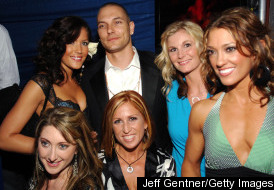 Kevin Federline interviews some potential au pairs.
"Who Shouldn't Have The Kids More?" (A Forensic Examination)
Britney Spears:
Aug. 28, 2003: Live at the MTV Awards, Spears and Madonna engage in open-mouthed kissing.
Jan. 3, 2004: At 5:30 a.m. in Las Vegas, marries childhood friend Jason Allen Alexander. Wearing a baseball cap and torn jeans, Spears is escorted down the aisle by a limousine driver at the Little White Wedding Chapel on the Strip. The marriage is annulled after 55 hours.
May 2005: "Britney and Kevin: Chaotic".
Feb. 7, 2006: Spears drives her car with infant son Sean Preston on her lap, but it could just as easily have been the roof.
May 19, 2006: Spears almost drops Sean Preston on his head as she holds the child in one hand and glass of water in another.
November 8, 2006: Spears maturely tells Federline about divorce via text message.
November 27, 2006: Spears, in the company of Paris Hilton and Lindsay Lohan, introduces the world to her vagina.
January 1, 2007: Spears collapses in the VIP area of Pure nightclub in Las Vegas on New Year's Eve and needs to be helped from the nightclub just before 1 a.m. Meanwhile, Spears' manager, Larry Rudolph, tells the Associated Press, "She was not drunk. She was just tired and falling asleep."
February 15, 2007: Britney goes to rehab -- for less than 24 hours.
February 17, 2007: Britney shaves her head. Next, Spears proceeded to get a black-white-and-pink cross tattooed on her lower hip and red-and-pink lips on her wrist. When asked why she shaved her head, replied, "I don't want anyone touching me. I'm tired of everybody touching me."
February 20, 2007: Britney enters rehab, again.
April 27, 2007: Pulled over for speeding on Sunset Boulevard.
February 21, 2007: Spears hits a photographer's van with an umbrella, like a crazy person.
Jul 18, 2007: Spears pulls over to the side of the road, strips down to her bra and panties, and goes swimming off Pacific Coast Highway with friends and bodyguards, like a crazy person.
July 25, 2007: At a photo shoot for "OK! Magazine," Spears wipes fried chicken hands on her dress, uses another dress to clean up dog excrement, and then just leaves, stealing jewelry and clothes, like a crazy person.
August, 2007: Parties in hot tub with college student.
Kevin Federline:
2004: Cornrows.
April 28, 2004: Begins relationship with Spears while Shar Jackson is pregnant with their second child.
May 2005: "Britney and Kevin: Chaotic".
October 31, 2006: "Playing with Fire".