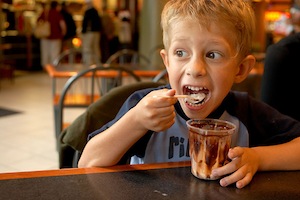 Have you ever gone to a restaurant hoping for a quiet, relaxing dining experience only to find that the table next to you is the temporary playground for a couple of rowdy kids and two stressed-out parents? We've all been there. Whether you're on the sidelines or in the middle of the battlefield, it's not pleasant for anyone. But dining out with children doesn't have to be a negative experience. Here are 10 tips for having a positive and fun outing with your family while showing other patrons that not all children are little devils at the dinner table.
Do you have any strategies that have proven to be effective when dining out with kids?
10 Tips For Dining With Children
Rachael White is an American foodie living in Tokyo. For two years, she and her husband have been exploring the ins and outs of the fascinating food culture of Japan. Rachael's blog Tokyo Terrace chronicles her experiences creating dishes and drinks that use new and exciting flavors in accessible ways. She has been published in Tokyo's Daily Yomiuri Newspaper and contributes to JapanEats.tv. Originally from Minnesota, Rachael creates recipes that reflect Midwestern comfort food with a modern, Asian twist.