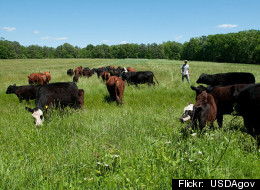 by John Brady, Beef Expert for the Menuism Beef Blog
Some consider meat eating unethical due to its environmental impact, animal cruelty, human health issues or various other reasons. They might like to enjoy an occasional juicy, grilled beef steak, but can't quite justify it. If this includes you, here are my top five reasons why you should go ahead and enjoy real, grass-finished beef.
Grass-fed, grass-finished. That's my beef. Enjoy!
Related Links from the Menuism Beef Blog:
• Does Aging Beef Keep You Younger?
• Inside the Butcher Shop: Beef Cuts 101
• How to Choose the Best Beef
For 50 years now, the medical world has been warning us about the hazard of red meat to your cholesterol and arteries. It's time to get updated. That warning is tied directly to the timeline of the rise of Confined Animal Feeding Operations (CAFOs) that rely on unnatural diets of high carbohydrates, generally corn. By contrast, the recent return to pre-1960s era beef, i.e. grass-finished beef, has led to a beef product that is literally native to our diet and naturally provides healthy protein and fats. Photo by Flickr user Alex E. Proimos.

Animals raised in open pastures are healthier, need less human handling, need less drug intervention and have a longer life span. Photo by Flickr user USDAgov.

Remember, there are people in this equation. Open space, green pastures and lower stress levels all contribute to the betterment of the ranching family's life. Photo by Flickr user USDAgov.

There is a lot of misinformation regarding the depletion, degrading and general ruining of water and mineral resources by livestock. CAFOs are largely to blame. However, ruminant animals have been out in pastures since the Stone Age. They are an integral part of the carbon cycle, the nitrogen cycle, the water cycle and every other cyclical pattern of nature. Ruminant animals are the keystone in converting otherwise undigestible plant material into something useful to mankind. Photo by Flickr user elias_daniel.

Judicious inclusion of natural, grass-finished beef in our diet has lots of positives. I will leave to the reader to decide what judicious means to you. A number of good vegetarians say to me that they don't eat meat, but do include some in their children's diet. Why? Because it's just sensible. From time immemorial we have been omnivores. There's a reason. I urge you to find a good local source for including beef in your diet. Photo by Flickr user avlxyz.
John Brady is one of a now-rare breed of farmer-ranchers who comes from an unbroken chain of family farmers going back multiple generations. He is the third generation currently farming the same land in Idaho. After earning a degree in Agronomy and a Master's degree in Agricultural Economics, borrowing money and participating in USDA farm commodity programs during the 1970s, he has finally overcome most of that to be a maverick in doing things the "new old-fashioned" way, working with nature to raise beef the way it was intended: on grass, legumes and forage. Watch John move cows at BradysBeef.com, read the Brady's Beef blog and keep up to date on all things Brady's Beef on Twitter.
Follow Menuism on Twitter: www.twitter.com/menuism