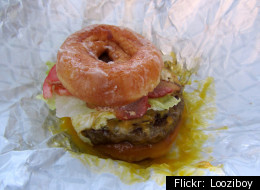 by Mr. Lew, Burger Expert for the Menuism Burger Blog
Let's face it, you can get a burger nearly anywhere you go. And while a lot of those burgers are the same, a few stand out. I've chosen five burgers that are audaciously outside the box, and intriguing enough to try if you dare.
Related Links from the Menuism Burger Blog:
• A Brief History of Hamburgers
• How to Choose the Best Beef
• Why Grass-Fed Beef Is Better for Your Health
In 2008, "Man v. Food" host Adam Richman visited the Vortex in Atlanta. From the decor to the staff to the food, the Vortex is unique, making it a must-stop spot for tourists. Featured on that episode of Man v. Food was a burger that has the ability to impress, if not to give one a massive stroke. This burger contains two fried eggs, six slices of American cheese and eight slices of bacon, which are served between not one, but two, grilled cheese sandwiches. It takes a brave heart to attempt to eat this.

Upon first glance, you'd probably think that this is like every other burger you've ever seen in your life, that is, until you take a bite. This burger is dubbed "The Hottest Burger in the World." It's so hot, a challenge was created for anyone insane enough to try it. The Four Horsemen contains jalapenos, serrano peppers, habanero sauce, and bhut jolokia, which is also known as the ghost pepper. For the challenge, you have to eat the half-pound burger in under 25 minutes. After finishing, you have to wait an excruciating five-minute period. You cannot drink anything and the burger cannot leave your body. Of the over 3,000 people who tried the challenge, only 200 have successfully finished. To anyone willing (or stupid) enough to try this, you have all my respects.

This burger, often credited to the late singer Luther Vandross, is known as the cardiologist's nightmare. The Gateway Grizzlies of Sauget, Illinois have been serving these evil concoctions to ballpark spectators, and their team's fan attendance has increased ever since. But Sauget, Illinois isn't the only place where you can find the burger, as it's now dotting the state fair circuit all across the United States. This burger is your average bacon cheeseburger with one major difference: instead of a hamburger bun, you get a deep-fried Krispy Kreme doughnut. So ordering this burger instantly makes your dessert choice null and void. The combination of bacon, cheese, and the sweet taste of doughnut adds up to a whopping 1,000 calories.

Since 2008, m:brgr has been giving customers the chance to customize their burgers, all the while getting to choose from the most premium ingredients. Recently, when they expanded to Toronto, they introduced a real novelty burger. The items in this burger read like a laundry list of the most out-there, pricey ingredients you can find: bacon, a grilled pear, foie gras, brie, fig jam, asparagus, Piave del vecchio cheese, garlic roasted ham, porcini mushrooms, honey truffle aioli, and truffle carpaccio, all helping to dress the two all-Kobe-beef patties. If that wasn't enough, you get regular French fries, sweet potato fries, fried onions, arugula, and cherry tomatoes, all for the price of one hundred Canadian dollars. While their Toronto venture didn't exactly succeed, you can still find this wondrous burger on the Montreal menu.

In 2011, Burger Bar opened its doors on Montreal's fabled Crescent Street in Quebec. For those who don't know, Quebec is famous for introducing poutine: a plate of French fries covered with cheese curds and gravy. Poutine has been around for decades, but no one ever thought of placing it on the next best thing, the burger. That is, until now. This burger starts with a beef patty, topped with a mountain of fries, then ladled with sauce and covered with cheese curds. On paper, it sounds like the most epic idea known to man. Structurally speaking, you may encounter difficulties when trying to eat this, not to mention the side effects after finishing it, if you finish it at all. But this is exactly what a relatively new restaurant will do to make its impact on an already-crowded burger scene.
The 5 Most Audacious Burgers in North America originally published on the Menuism Burger Blog
Mr. Lew is a high school teacher from Montreal, Quebec. In 2009, after trying Montreal's supposed best burger, he decided to see what else was out there. So, every week, a new burger was added to the Great Burger Search. Since then, Mr. Lew has tried more than 100 burgers in cities across Canada, and hopes to one day expand to the rest of North America. Since Mr. Lew is part Chinese, the search isn't limited only to great burgers, but to other types of cuisine that makes Montreal one of the greatest culinary cities in the world.
Follow Menuism on Twitter: www.twitter.com/menuism