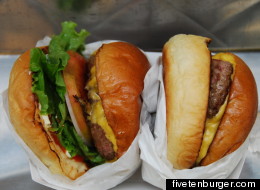 by Mr. Lew, Burger Expert for the Menuism Burger Blog
Food trucks have come a long way. No longer the "roach coach" of old, food trucks have elevated the burger to something worth tracking down -- especially in these nine places.
Menusim's Best Burger Trucks
Munchie Mobile on Twitter Offering five different burger combinations, New York's Munchie Mobile is working to cure that age old problem: the munchies. Who better to deal with that affliction than the three NYU students who started the truck? One of the most compelling offerings is called El Chupacabra, a burger that contains cheddar, guacamole, red onions, lettuce, tomato, and jalapeño peppers, all topped with a spicy mayo. Photo from rachelkramerbussel.com, Flickr.

Visit the Happy Grillmore website Rest assured, you'll get a great burger without having to deal with an angry Adam Sandler. Try the Chubs, a 1/3-pound patty with Tillamook cheese, spinach, arugula, red pepper aioli, spicy mustard, and "secret sauce" on ciabatta bread -- you can't go wrong. If Chubs's secret sauce isn't the secret to your happy place, try the Happy burger with bacon and Gorgonzola crumbles. Photo from happygrillmore.com.

Visit the Fuku Burger website Las Vegas is home to some of the most outrageous food options known to humankind; why shouldn't the food truck get that same treatment? Based on Japanese cuisine, even the patty gets some soy and yuzu treatment. Try the Lucky burger with pickled onion, wasabi mayo and the ever-so-secret Fuku sauce. If you can't get out to Las Vegas, there is also a brick-and-mortar restaurant in Los Angeles. Photo from spec.G, Flickr.

Visit the Fivetenburger website If you ever find yourself in the Bay Area, you shouldn't worry about your hunger tipping over the Richter scale; you'll be covered by Fivetenburger. Their artisan burger creations on wheels may just cause a seismic reaction. Each burger is cooked to order on custom-made buns which are baked daily. The emphasis is on locally sourced ingredients and housemade items like ketchup, pickles, and mustard. You can upgrade with applewood bacon and cage-free eggs for a small extra charge. Photo from fivetenburger.com.

Visit the Chef Shack website Some people may think you'll only find simple creations at a burger truck. Chef Shack in Minneapolis offers something above beef. Their grass-fed bison burger is a leaner, healthier offering than traditional beef. Add their bacon beer brats or grass-fed beef hot dogs with all the fixins on the side. All the ingredients are family-farmed and organic when possible. Photo from chefshack.org.

Visit the Alley Burger website Canada has its own food truck scene, and Calgary is one of its hotbeds. The wait at the Alley Burger truck may cost almost 3 hours of your time, but order The Whole Truck, and you'll see why the line snakes around the block. The burger is a 100% angus beef patty, and the burger is built your way, with topping choices like cheese curds, piri piri aioli, and bacon. Photo from Calgary Reviews, Flickr.

Visit the Winneburger website Montreal's food truck scene is struggling to come into its own because in the 1960s, Montreal's mayor deemed food trucks too ugly to dot the streets. These days, food trucks are mostly seen at festivals and private events. Still, there is a growing collection of mobile food vendors in the city, and as of 2012, Winneburger joined its ranks. Winneburger was built out of a used Winnebago. The cheeseburger is simple but well made, my idea of burgering done right. Photo from mrlewburger.com.

Visit the Grill 'Em All website A discussion about burger trucks cannot go on without including the most prevalent burger scene in Los Angeles. Having won Food Network's The Great Food Truck Race, Grill 'Em All offers 10 options, including Waste 'Em All, a burger with green chilies, pepper jack cheese, and beer-soaked onions, and Witte, a burger with cream cheese, deep-fried bacon, beer and Sriracha onions, and malt vinegar aioli. Photo from Grill Em All Truck, Flickr.

Visit the Baby's Badass Burgers website Competition in LA for top burger truck is fierce, but no burger exemplifies "go big or go home" more than Baby's Badass Burger's the Cougar, a $15 creation containing aged beef, St. André cheese, and black truffles. Cofounded by Lori Barbera, a celebrity event planner, it's no wonder Baby's has high-profile followers including Lauren Conrad and Common. Photo from Al Pavangkanan, Flickr.
Related Links from the Menuism Burger Blog:
8 Great Places for Sliders
The World's Biggest Burgers
10 Regional Burgers
The Best Burgers from Burger Trucks originally published on the Menuism Burger Blog.
Mr. Lew is a high school teacher from Montreal, Quebec. In 2009, after trying Montreal's supposed best burger, he decided to see what else was out there. So, every week, a new burger was added to the Great Burger Search. Since then, Mr. Lew has tried more than 100 burgers in cities across Canada, and hopes to one day expand to the rest of North America. Since Mr. Lew is part Chinese, the search isn't limited only to great burgers, but to other types of cuisine that makes Montreal one of the greatest culinary cities in the world.
Follow Menuism on Twitter: www.twitter.com/menuism