As a lawmaker, President Bill Clinton galvanized the nation by changing the face of American politics. As a product of modest means, he was a man of humble beginnings who lived the struggles of average Americans.
He was us and we were him.
Presently, President Bill Clinton stands as a pivotal change-maker by inspiring youths across the globe to find solutions to the world's largest problems. Through the Clinton Global Initiative University (CGI U), he remains dedicated to creating a better world by molding the next generation of global leaders.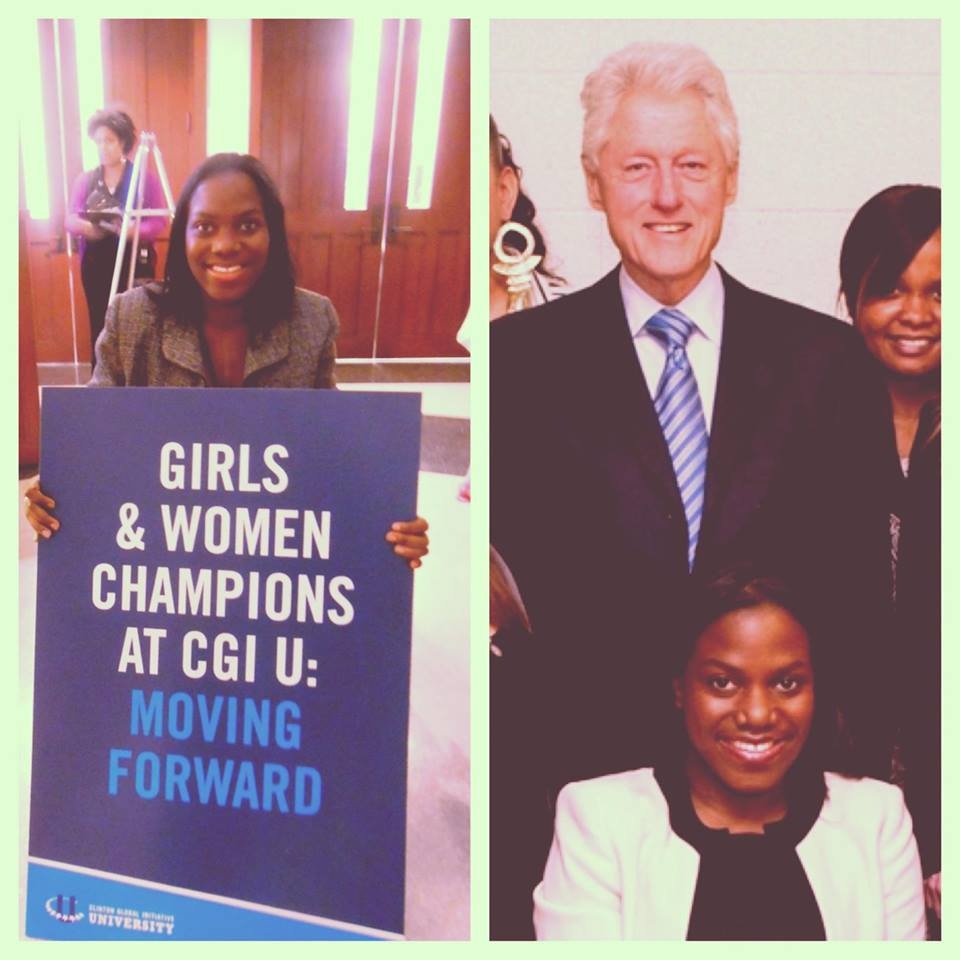 Ola Ojewumi & President Bill Clinton, Washington University, St. Louis Missouri / Photo by the American Association of University Women (AAUW) and the Clinton Global Initiative University (CGIU)
This April, I received the opportunity to attend the third annual CGI U conference, thanks to contributions from the Clinton Foundation and the American Association of University Women (AAUW). President Clinton launched CGI U "to engage the next generation of leaders on college campuses around the world."
His work did not end by merely engaging students; he has made a commitment to ensuring that women are included in the discussion of social change. During the conference, President Clinton made a powerful statement. He stated that if he could do one thing to advance world change, "it would be to eliminate the gender disparity between men and women." CGI U has done so through a partnership with AAUW -- a national grassroots organization that has worked to improve the lives of millions of women and their families for more than 100 years.
Joy Marie Agee of the University of Alabama credits AAUW and CGI U for the launch of her science, technology, engineering, and medical science (STEM) mentorship program. Upon attending the conference with AAUW, she launched a minority-focused commitment introducing elementary and middle school girls to the STEM field. Agee states, "AAUW has served as a wonderful platform for me to network and exchange ideas with other women with similar goals [and] the CGI U conference impacted me by providing a platform for me to network with other like-minded individuals that have an interest in inspiring girls and women."
The single greatest part of the conference was engaging with young nonprofit leaders and social entrepreneurs from continents across the world. As CGI U attendees, we were required to develop a sustainable commitment to improving global communities. Additionally, we were given training and tools to adequately develop our commitments into realistic projects.
As a result of my CGI U trip, I made a commitment to increasing financial opportunities for low-income women and girls to attain higher education. The expertise I gained from CGI U and AAUW led to the creation of my nonprofit college scholarship program, Project ASCEND. This year, we successfully awarded $5,000 in scholarships to low-income students living in Washington, D.C.
CGI U and AAUW taught me how to lead without hesitation and with passion as my driving force. I left the CGI U Conference with a wealth of knowledge and the life-changing opportunity to meet former President Clinton and Chelsea Clinton. At that moment, he bent down, shook my hand, and asked me for my name. I responded nervously. Then he tapped me on the shoulder and said, "I'll stand right behind you for a photo."
This was a life-altering moment for me. Similarly, President Clinton met President John F. Kennedy as a young student. He attributes shaking President Kennedy's hand as the precise moment in which he knew he wanted to run for public office. The moment I met former President Clinton, I knew that I wanted to dedicate my life to improving the world through nonprofit work.
It is with this peace that I thank former President Clinton, CGI U, and AAUW for teaching me that I could change the world and that the burden of shaping a better tomorrow rests upon my generation.