With the absence of Apple, the title of 'cool brand' is up for grabs each year at CES, and this year it seems BlackBerry is making quite a push for the title of "stand to be seen at."
Following the trend from their recent ad campaigns, they've played the celebrity card, both actual and gadget-wise. Entourage's Adrian Grenier was first to take the stand as part of their CES BlackBerry Pro interviews with TV host Lara Spencer. In a loosely tech-themed crowd puller, Vince, sorry, Adrian, spoke about documentary making, the environment and the future of Entourage as well as fawning over BlackBerry's other celebrity, the new Playbook. As we've heard, CES is a veritable Tablet-fest this year and the Playbook has been quite the charmer with its neat navigation, HD video capability and speedy web browsing. Even Will.I.Am swung by unannounced to check one out this afternoon (and presumably asked Can.I.Have?)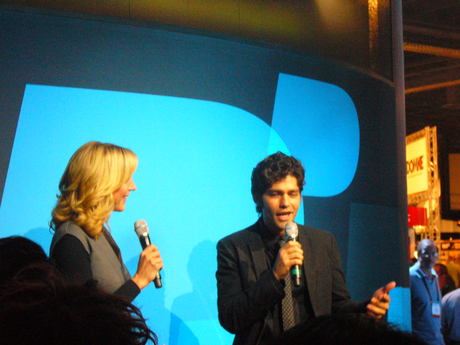 Piers "the new Larry King" Morgan was up next to play interviewee, fresh from announcing that Oprah Winfrey will be the first guest on his new show. He was similarly gushing about the Playbook, comparing it to Naomi Campbell on Twitter.
Tomorrow sees rapper and actor Common and actress and activist (apparently) Olivia Wilde take to the BlackBerry stage, clearly the place to park for the CES paparazzo. We'll keep our eyes peeled...

SUBSCRIBE AND FOLLOW
Get top stories and blog posts emailed to me each day. Newsletters may offer personalized content or advertisements.
Learn more