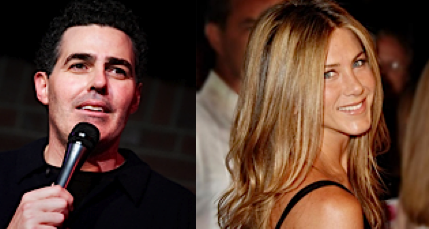 Everyone's finally listening to Adam Carolla because he's the only one around Hollywood who's able to crack the enigma that is J Aniston's love life. Actually, he's the only one who'll tell the truth. Everyone wonders, oh she's so sweet, what went wrong? Why do men run from her like a dirty diaper?
Bill: What is it about her (Jennifer Aniston) that repels men?

Adam: "I don't think she repels men," Carolla said Thursday during an appearance on Bill Simmons' ESPN Radio show, The BS Report. "I think she probably has a lot of testosterone and probably thinks like a man...There are certain women out there, they say you can tell from the jaw line...they did some study that women who have sharp jaw lines...it's a masculine feature."

"The point is, maybe she has a little too much testosterone and maybe she is a female version of one of these guys who bangs his way through Hollywood. Like a female Gerard Butler."
So Adam's basically saying Jen's 'not a player she just crush a lot'?
Join the 60 million people have downloaded The Adam Carolla Show, by subscribing to the nation's #1 daily downloaded show on iTunes!