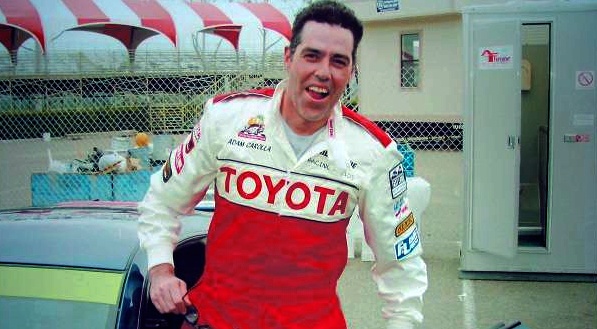 Nineteen celebrities and pros racers, a 10-lap race for charity, and podcasting comedian Adam Carolla is the front runner to win it all.
Vegas is placing their bets on the 2010 Toyota Pro/Celebrity Race through the streets of Long Beach , and Anthony Curtis, president of LasVegasAdvisor and one of the world's most recognized and quoted gambling authorities, has predicted Adam taking home the checkered flag.
"I know this track because I've driven it," said Curtis. "I've watched these drivers train, and it's empowering to see the excitement and competitiveness surrounding the participants. It's going to pay off at the finish line with children in need getting the ultimate prize -- it's a win-win for all."
Curtis watched all the celebrities during their four days of training in the California desert, and said Adam showed 'tremendous speed and the most control' on the 1.9 mile track.
If Adam does win he'll be beating his other celebrity competitors including Adrien Brody, Brian Austin Green, Zachary Levi, Jesse McCartney, Christian Slater, and Tony Hawk.
The charity event raises money for Racing for Kids, a national nonprofit program that locally benefits children's hospitals in Long Beach and Orange County, Calif. It all goes down at the Toyota Pro/Celebrity Race on Saturday, April 17, part of the 34th-annual Toyota Grand Prix of Long Beach.
This Blogger's Books and Other Items from...
SUBSCRIBE AND FOLLOW
Get top stories and blog posts emailed to me each day. Newsletters may offer personalized content or advertisements.
Learn more