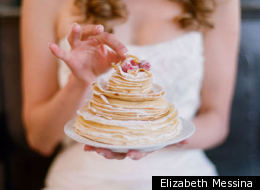 There is no denying we love a good wedding cake on Style Me Pretty. Fondant or buttercream, tiered or layered -- wedding cakes have a way of making a delicious statement on your big day -- and that is something we can stand behind.
But what if you want that statement to be a bit louder, and the classic cake just doesn't cut it? Well, we've rounded up some wedding cake alternatives that are 100 percent Style Me Pretty approved. Full of the style we love and the spunk that will leave your guests talking, these non-traditional desserts will surely be trending in the wedding cake category!
Some couples don't have the sweet tooth that demands a three-tiered wedding cake. So they go for something a bit more savory like a stacked cheese alternative. From wheels of stilton to parmesan, aged cheddar to brie, these cheese alternatives are a whimsical way to feed your guests' more savory palettes. Serve alongside a myriad of homemade jams and crackers and you have yourself quite a dessert spread.

When you think of the traditional wedding cake, visions of fondant and buttercream may dance in your head -- but want about visions of...unfrosted cakes? Equally as pretty and a fun surprise for your guests. These cakes are perfect for a more casual affair like a brunch celebration where the treats might be served alongside a coffee or espresso bar.

The French know what they are doing when it comes to food, and apparently wedding desserts too. This traditional French wedding cake alternative has made its way across the Atlantic and guests have been swooning over its deliciousness ever since. Top it off with a sparkler for that serious wow factor or a simple traditional cake topper and you have a wedding cake that will leave a lasting impression on your guests.

Okay so this might not be a trend YET but here's to hoping. We love the idea of miniature crepe cakes served to individual guests. Pancakes would do the trick too. Just think of the layers upon layers of sweet and savory that you can infuse into this alternative. The options are endless.

Oh the Bundt cake. Understated yet elegant classic yet surprising -- this pretty little number is starting to steal the dessert scene with it's simple yet stunning style. Perfect for those DIY brides that want to take on cake baking themselves, but sophisticated enough for even the most fancy affair -- Bundt cakes are back in a big way.

I scream, you scream, we ALL scream for wedding ice cream. A classic dessert, this simple yet oh so delicious treat is finding a new home in the hands of wedding guests. Honestly, who doesn't love ice cream? Whether displayed as a build-your-own-sundae bar or passed in cute little cones, these treats are perfect for everything from a whimsical affair to a backyard fete and pair ever so nicely with a warm, summer reception.