Michael Vick, it has been reported everywhere, has signed a two year contract with the Philadelphia Eagles, and I, for one, am happy for the man.
Full disclosure: I lived in Atlanta from 1987 to 1996 and during that time became a fairly rabid fan of Atlanta sports. Even though I've lived in Connecticut ever since (except for a year-long adventure), I've remained one of the biggest Braves, Falcons, and UGA Bulldogs fans you're likely to meet in New England. And I'm almost certain that I'm the biggest Hawks fan in a 10 state radius. Point being, I spent a lot of time from 2001 when he was drafted to 2007 when he was indicted for dog fighting, rooting for the Atlanta Falcons and their quarterback, Michael Vick.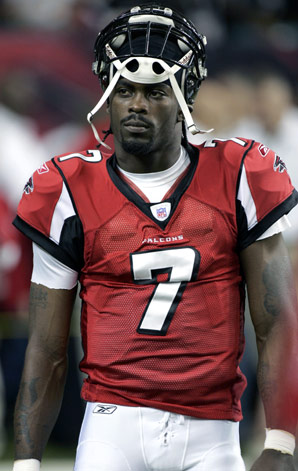 But this isn't really about that. For all intents and purposes, Vick hasn't been a member of the Falcons for quite some time. Technically he was on the roster for complicated salary cap reasons until earlier this summer, but he hasn't played in a game for them in over two years, and it became crystal clear that after he was sentenced to federal prison, he'd never wear the red, white, and black of the Falcons again.
The truth is that Falcons fans should be furious at Vick. In late 2006 he began spiraling out of control. In what turned out to be one of his last games for the Falcons, he flipped off his home fans at the Georgia Dome after being blown out by bitter rival New Orleans 31-13. During the ensuing off-season, he was photographed smoking what appeared to be marijuana in a limousine with several women. In January of 2007 he was detained by police at the Miami airport carrying a "water bottle" that had a secret compartment he claimed was for jewelry. Police at the scene initially claimed that they found marijuana residue in the compartment, but in one of the stranger stories, decided they hadn't, dropped all charges, and refused to disclose any of the surveillance tapes. Then, in July, just before training camp, Vick and three associates were charged by federal authorities with felonies related to an illegal dog fighting ring. In August Vick plead guilty, concluding an investigation that had been ongoing since April. He was sentenced to 23 months in federal prison. It was, by all accounts, the worst off-season of all time for a major sports star.
Vick has paid dearly for his transgressions. He was once the highest paid athlete in the NFL, having signed a 10-year $130 million contract in 2005. He had lucrative endorsement deals, real estate holdings, and interests in business ventures, all of which are gone. In July of 2008 he filed for Chapter 11 bankruptcy protection, with assets of under $50 million and debt obligations of anywhere from $10-50 million.
Was what Michael Vick did wrong? Absolutely. Regardless of whether Vick grew up around dog fighting, and whether or not it was tacitly approved of in Virginia where he was engaged in many of the illegal activities, what he did was despicable, and to be clear I'm in no way condoning any of his behavior. He also lied repeatedly to the Falcons, to his fans in Atlanta, to commissioner NFL commissioner Roger Goodell, and to any number of others, all of which was also wrong. But he did his time, he paid his debt literally and figuratively. He has been apologetic, contrite, and has taken full responsibility for his actions. He deserves one more (and only one more) chance.

SUBSCRIBE TO & FOLLOW ENTERTAINMENT
THE spot for your favorite fan theories and the best Netflix recs. Learn more