Aureta Thomollari, entrepreneur, blogger and luxury consultant, makes me want to be more glamorous; more put together; more elegant. She makes me want to dress up every day. She is a visual expression of my belief in how dressing up is about how you present yourself to the world, and hence how you behave. And this is particularly true during travel... she does not dress down to travel, on the contrary, she amps up the level of sophistication and glamour to make her experiences around the world even more meaningful.
To say she likes to travel is an understatement. She has visited 43 countries so far. "I want to be at 100 by the time I am 40," she says.
To me, traveling is the definition of living. I feel alive when I travel. I even have my pilot's license. Everything about a new place fascinates me, the people, the aromas, the mannerisms, the food, the energy, the climate and more. Every time I travel I come back with new visions and feel reborn... I learn so much, I have new ideas.

As she tells me about some of her travels, she makes me dream of everywhere I have yet to visit... Her favorite place visited so far is St. Bart's. "It is also extremely chic...everything is perfectly manicured." Just like Auretta herself.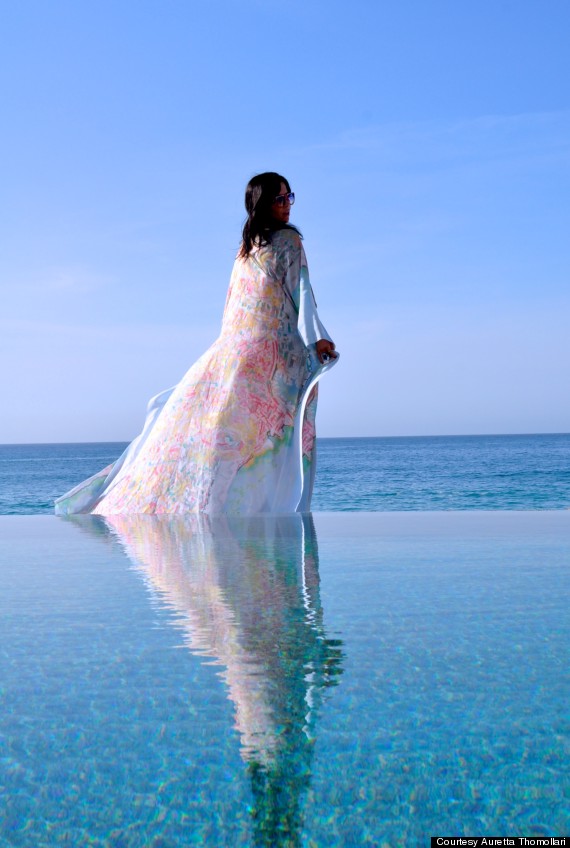 Courtesy of Auretta Thomollari
Her favorite city is New York. "Paris and Rome are close seconds where I feel that I am walking in a museum; New York, on the other hand, is like a museum of all the amazing things that each city in the world offers..."

Her favorite domestic airline is Virgin American; "by far."

Her favorite international airline is Emirates, followed by Qatar Airways. On a recent flight, "the flight attendant said, 'It is my honor to serve you,' and offered me a rose water-scented hand towel."

Here are her must-haves wherever she travels (which I imagine is a list very similar to what Jacqueline Kennedy would pack during her travels...):
A couple of scarves and turbans - a scarf changes every look, keeps you warm, is a great accessory for al fresco dining, you can hang it on a bag, it's easy to pack, takes no space and always adds an element of luxury; quality turbans are instant glam, adding a pop for any occasion, dressy or casual. This is why I've decided to start my own turban line: to give women (and later, men!) a variety of beautiful, chic options to stay inventive and beautiful
Red lipstick - traveling so often can be taxing; adding a red lip immediately refreshes your travel look, taking you from weary to wow! I am obsessed with all of Tom Ford's rouges.
Sunglasses and statement jewelry - both accessories are easy ways to change your look while traveling the globe. Stand-out bracelets, rings and necklaces transport Old World glamour into your carry-on.
Perfume - traveling with a signature scent always reminds me of the familiar, a tie back to what I know and love.
Clutch - a jeweled or exotic clutch adds texture and excitement to even the most basic outfit.
Vintage black dresses (inexpensive -- but don't confuse this with disposable fashion). Black is a great color for travel, and the vintage aspect means I won't be wearing the same thing that everyone else has.
Shoes are my weakness; I always pack a few pairs. I believe that shoes are the one thing that everyone should invest in. If you have amazing shoes on, the rest of the outfit will always fall into place.
Finally, facial sprays to revive your makeup and skin with a refreshing face spray. I particularly like the moisturizing and brightening qualities of rose water when I travel.
And now, let me book my trip to St. Barth's and pack my red lipsticks!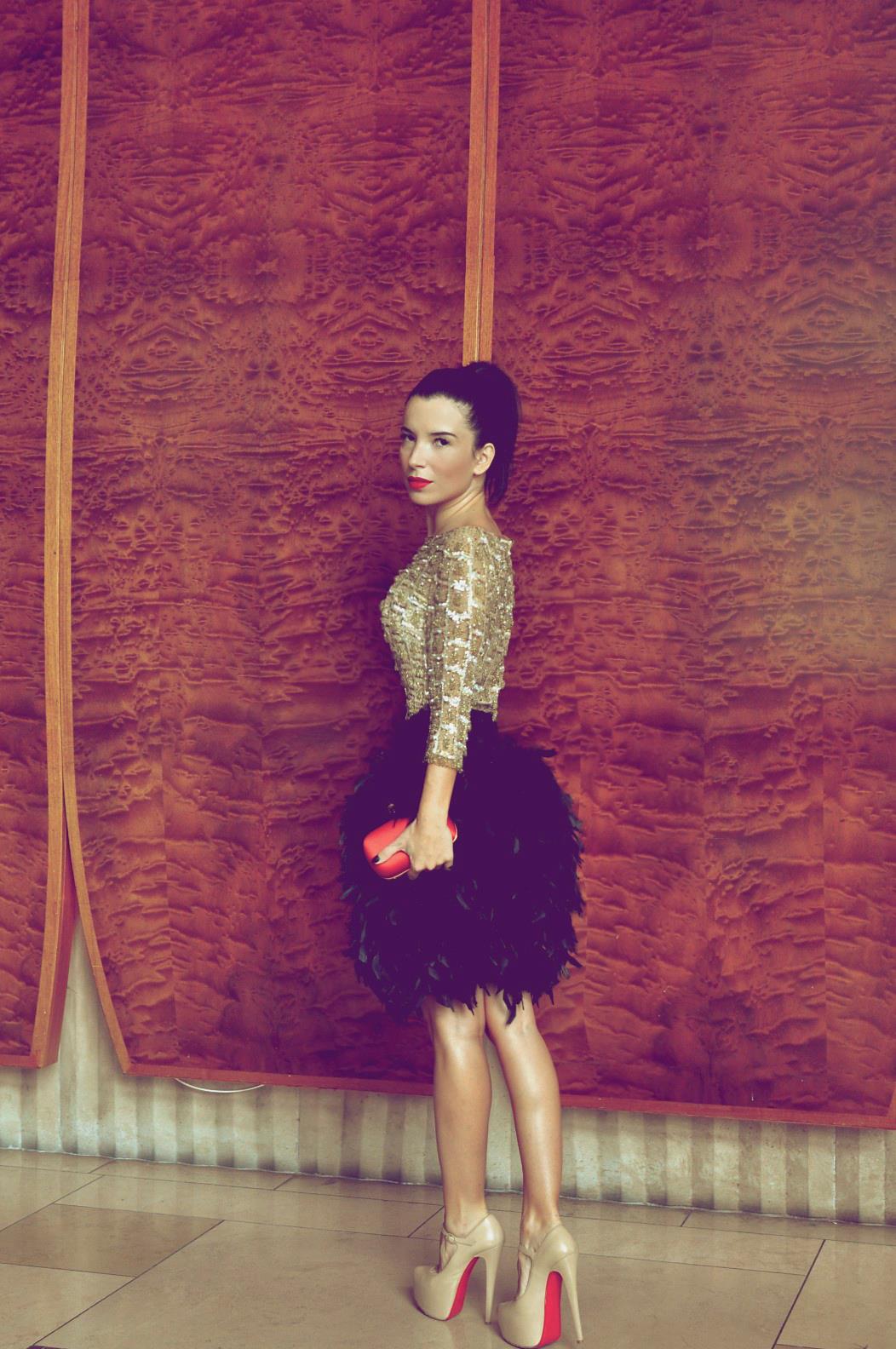 Courtesy of Auretta Thomollari