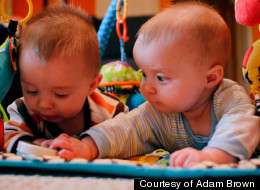 One week, not long ago, posts on my personal parenting blog, Fatherhood Is, ground to a sudden halt. Why? I accepted a five-day position as a stay-at-home dad while our nanny was out of town. To date, I've held only a handful of jobs, but being the solitary caregiver for two 4-month-olds was officially the hardest (and most satisfying) of them all. Seriously, stay-at-home parents who do this on the regular deserve a goddamn medal, or better yet... a cape -- cut from the finest cotton polyester blend and adorned with rhinestones.

For most stay-at-home parents, it's a full-time (plus overtime) occupation. My experience was more like an externship; it afforded me the luxury of constant reflection. From shopping for new pants to presenting over Skype to a ballroom full of conference attendees, I did it all with two babies in tow. And in the end, I recognized five distinct stages of my journey. I called them -- aptly enough -- the "Five Stage of Stay-at-Home Fatherhood."
These posts originally appeared on Fatherhood Is.
The 5 Stages of Stay-At-Home Fatherhood
When faced with the proposition of stay-at-home fatherhood, hesitation will manifest itself in one of two fashions. Either A.) the dad will feel ill-equipped to shepherd his young'uns through a whole day sans mom, or B.) the dad would rather be doing something else entirely. I selfishly identify with the latter. I love my babies. I love my babies so much I know what their drool tastes like. (Not bad.) But I knew from the outset that being with them all day meant at least ten hours of unadulterated focus, and my mind is notoriously commitment-phobic. To put it in perspective, I've been tooling around on this post for seven minutes now and two of those were spent changing up a playlist on Spotify and another seeing if there were any new posts on The Daily What. Ooh... something about a whale. Hang on. OK, I'm back. So, when our nanny informed us she'd be out of town for three weeks, my wife and I had to make alternative arrangements. Ashley was out. Having used all of her vacation and sick days for maternity leave, she couldn't afford to miss any more work. That left me and her mother -- who lives two hours away in an empty nest -- as the next best thing. I took time off to cover the middle week and Ashley's mom kindly agreed to drive in the weeks before and after. If my wife could do it, if our nanny could do it, if my mother-in-law could do it... it wasn't a question of whether or not I could. There was no question at all; I was going to do it. I was going to stay at home with two four-month-old babies for one week because it was my duty and my delight as a father to do so. I was going to test my mettle as a stay-at-home dad... and I was going to get lots of work done during their naps. I was pretty sure that almost everything would hopefully be awesome for the most part.

Here's a fun fact: the ancient definition of "enthusiasm" describes inspiration or possession by a god. An enthusiast, then, is in communion with a higher power -- a force greater than himself. Ladies and gentlemen, the force was strong with me that first Monday of stay-at-home fatherhood. By the time Ashley came home from work, I had done three loads of laundry, written a blog post, gone to Wal-Mart, had dinner on the stove and a glass of wine on the table. I was parenting with the force of a thousand Danny Tanners. When push comes to shove, dads get excited. I think it's the challenge. We have this innate do-or-die mentality that drives us to succeed on the court, behind a desk, or in the nursery. Does it get harried at times? Yeah, when you're watching two babies for ten hours you have to anticipate the inevitable. There were tears, poop, and spit-up... and then the babies had problems of their own. But we dealt with them. And we is the operative word here. For the first time "we" meant just Greyson, Charlotte, and Daddy. Instead of pitting myself against two temperamental infants, we banded together. Team Dad. Babies aren't challenging; it's all the shit you have to do for them that makes fatherhood onerous. And once I realized that, being a stay-at-home dad became a cooperative endeavor. Wet diapers: we changed 'em. Hungry tummies: we fed 'em. ABC's: we sung 'em (slightly out of key). No doubt about it, I was a really good dad that day. And the proof was in the kiss my wife gave me when she walked through the door. "I wish you were the nanny all the time," she said. Me too.

There's this intriguing rumor that when women lay eyes on a man with children, they go weak in the knees. Apparently visions of doting dads stimulate the ovaries. The brutal irony, of course, is that the man is already off the market and unwilling or unable to seal the deal with this resplendent bounty of T&A. So he stands idly by, ogling the women drawn to his stroller, and wonders why it wasn't this easy in college. Bullshit. Turns out, when you're 26 years old and sluggishly heaving two babies through the mall, the only women who seem to notice are the ones old enough to be your mother. They don't want you; they want grandbabies. Anybody's grandbabies. You're merely a means to an end. You'd try and avoid them of course, but you just ate a foot-long Seafood Sensation from Subway and washed it down with a large Diet Coke. You're bloated, hot, tired, and -- unsurprisingly -- a wee bit nauseous. It's only now that you begin to second-guess your plan to go shopping for new pants... with two four-month-olds... by yourself. Read the complete essay about hubris on Fatherhood Is.

When you're a stay-at-home parent, some days are good, and some days are bad. Regardless of which end of the spectrum you find yourself when the sun goes down, every day is exhausting. More often than not you'll find yourself living for bedtime. But the sun, as they say, is gonna come out tomorrow. Bet your bottom dollar that when you see that toothless smile in the morning, you'll forget how hard the rest of your day is going to be. Don't worry. You'll remember.

It's the giggle you thought you'd never get. The grunts and gurgles and rattles and bells they ring on the floor. The dance you lead as she glances excitedly around the room; the smile he flashes when he flies like an airplane. The sucking sound, the burping sound...and the smelly sound too. The whine that follows the panicked cry, and the bottom lip you get to kiss. The work you miss but still get done, the presentation you give over Skype to 80 attendants while entertaining the audience of 2 in your living room. The nap you accidentally take when they don't wake up from theirs. The persistence of that itsy bitsy spider. The brief moment you spend outside, protecting bald spots from the sun with your shadow. It's every thank you for every "Twins? How precious!" It's every sure enough for every "Looks like you got your hands full." It's the heavy eyes shutting on the bedtime bottle and the endearing weight on your shoulder as they give up the fight. It's the hardest job you've ever had, the only one you wish you did. It's the most accomplished you've felt in months. I'd call up Mick and let him know, but I think I lost his number.
Follow Adam Brown on Twitter: www.twitter.com/fatherhoodis