WARSAW - This competition is no joke. When teams aren't competing, they're practicing and perfecting their projects. The countless espresso machines and more than 3,000 consumed energy drinks have helped keep teams functional. Things are getting intense as victory comes within reach.
Even those who aren't finalists feel the stress. When I asked the United Arab Emirates team what they thought of Sex and the City 2, they looked really... puzzled. I surmised that it must be because they had their heads so far in the game. Right? Maybe?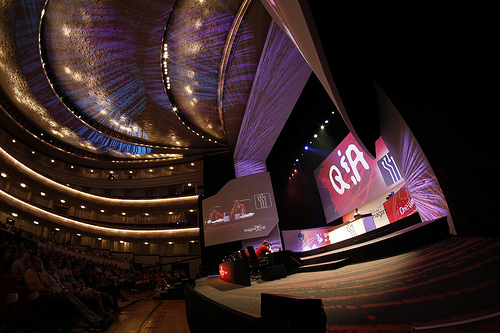 All the work and lack of sleep paid off Wednesday when finalists presented on the Polish National Opera House stage.
Teams were allotted twenty minutes to present and demo their project and most were flawless. Competitors were then subjected to a ten-minute question and answer session. Yikes, this was by far the toughest part. Basically, the panel of eight judges acted as a firing squad and things could get rough at times. The jumbotrons on both sides of the stage revealed the sweaty brows of pretty much every competitor.
"Preparation for the presentation is make-or-break at this point," said Software Design judge Nick Randolph. "All of the teams know the problem they're addressing and have a well-found solution. It's really about presenting that idea well and knowing how to answer any question that we ask of them."
This was easier said than done. The issue is that since this is an international event, English is not everyone's forte. "What" and "huh" were asked more often than at Lost series finale viewing party. Frankly, it was heart-wrenching to watch teams like Russia and South Korea struggle to understand and answer questions. It was tough, but thankfully no one burst into tears while on stage.
Presentations went on for a solid seven hours while the main floor of the 1,841-seat auditorium was consistently filled with eager onlookers. And by eager onlookers, I mean the teams that did not advance...
Okay, while I have a horrible track record of picking reality show winners, I thought I'd give this a shot. Here are my picks to win:
Software Design
Serbia - TFZR
Lord knows I love me a good pop culture reference, so the fact that TFZR Team was inspired by an episode of House is off the hook. In "Locked In," Mos Def plays a patient presumed to be brain dead, until Hugh Laurie notices he can still move his eyes. Mos Def then communicates with blinking and lives. The team's aptly titled "Neural Communicator" allows patients with extreme disabilities to communicate through speech synthesis, which lets patients "type" messages with their mind. My mouth was agape for so long, I began to drool.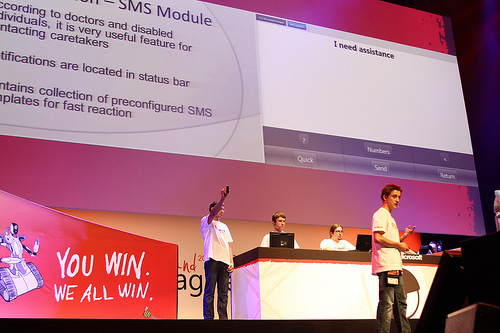 Embedded Development
United Kingdom - eyesight
In a category for teams of four, Kevin Pfister has been dubbed the "one-man army." Pfister is in his final year at University of York and said he ended up going solo because most students there are "anti-Microsoft." So, while his peers are using their iPhones to maybe download the Grindr app, he's in Poland making the world a better place. Eyesight uses voice recognition as well as Facebook to go through your friends' pictures and then, with a webcam on a pair of sunglasses, recognize a person when they enter a room or wherever. Thus, making day-to-day tasks for blind or partially-sighted people a lot easier.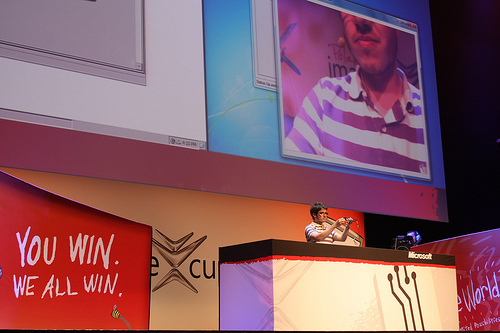 "All the technology was there," Pfister said. "Something had to be done and change comes about with big ideas, so why not?" Pfister said it wasn't easy to do this all on his own, but to state the obvious, it was all worth it in the end.
Game Design
Philippines - By Implication, Wildfire
The idea behind this game is a no-brainer. Duh, if you teach people how to change the world in a game, they'll at least have the faculties to do so in life. Inspired by the rebuilding of the Philippines after Typhoon Ketsana, Wildfire is a 3-D simulation of a city plagued with problems, but when the player collects enough volunteers those problems dissipate. Along the way, the player learns about real-world organizations that are already making a difference. Al Gore should totally check it out. Al?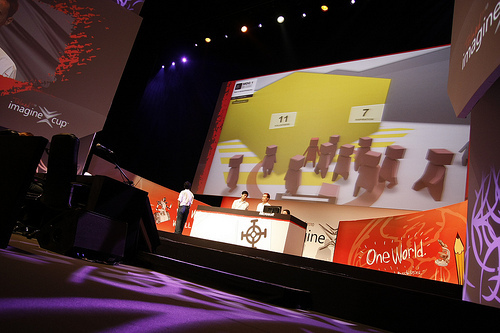 We'll find out tomorrow when the winners of all categories are announced. It's going to be a real nail-biter, people.
SUBSCRIBE TO & FOLLOW LIFESTYLE
HuffPost Lifestyle is a daily newsletter that will make you happier and healthier — one email at a time. Learn more