WARSAW - The Imagine Cup is just like the World Cup, only without the dulcet sound of vuvuzelas. It's full of so much technology and innovation that people may be blinded by the constant sight of trails being blazed.
Four-hundred students from 70 countries and regions have come to Warsaw, Poland to compete for cash prizes totaling about $240,000 and, of course, glory.
First held in Barcelona, Spain in 2003, the Imagine Cup has a total of 11 categories of competition, including Software Design, Embedded Development and Game Design. Each year has a theme and this year's is to "imagine a world where technology helps solve the world's toughest problems."
"We're giving students the opportunity to discuss and exchange ideas," said Microsoft General Manager of Education Strategy Jon Perera. "It's not so much about the technology as it is about giving them this forum to directly communicate with one another."
Sunday was the first full day of competition when every team had the chance to present in conference rooms before a panel of judges. The judges are professors, CEOs and other various technology industry heavyweights from all over the world. While they're encouraging, they have a very frank and pragmatic line of questioning. It's just like Top Chef.
"What's the long term business strategy?" "How exactly will you deliver the product to remote areas?" and "What if ten people attack me in a dark alley instead of one?" are just some of the questions I heard.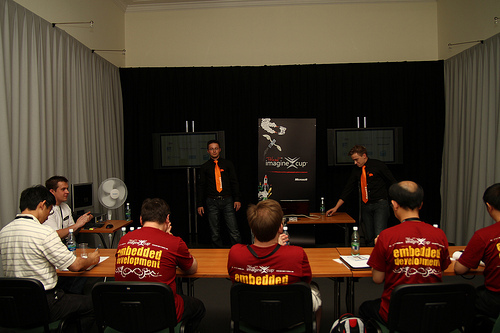 If one thing is already crystal clear it's that national pride is rampant - flags are worn as capes, soccer football jerseys act as uniforms and national anthems become victory songs.
Brazil is one of the more spirited countires not only because they do everything I just listed, but also because out of the 325,000 initial applicants, 80,000 of them were Brazilian. I asked Perera how a single country could generate a number of that size? He said one factor is that they have a "daisy chain-like" approach to improving projects from previous years and get a lot of mentoring from Microsoft Brazil. I think it's something in the water...
The two Brazilian teams include Proativa Team, semi-finalists in Software Design, developed "Pro@Edu," a "software-plus-services solution for distance learning that integrates the learning process into students' day-by-day activities." The other team is T.M.D., who developed "Recycle-Box" for the Embedded Development competition, which "uses sensors to identify objects in garbage such as paper, plastic, glass or metal." Perera calls it a real life Wall-E.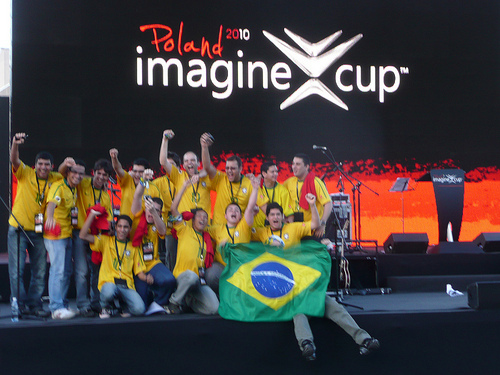 Each team won a regional competition earlier this year, so there's not a bad one in the bunch. I've found it's easy to be blown away by every project because they could, you know, change the world. As the week goes on, cuts will be made to help determine who is the best and deserves the title. The Imagine Cup is far from over. Stay tuned.

SUBSCRIBE AND FOLLOW
Get top stories and blog posts emailed to me each day. Newsletters may offer personalized content or advertisements.
Learn more