WARSAW - Are you cheering for team Jacob or Edward? Malaysia or Malta? Germany or Romania? Whoever your favorite is, this is the place for a full list of finalists and winners.
The announcements of rounds two and three were made Sunday and Monday in the Palace of Culture and garnered deafening cheers. Finalists presented one last time on the Polish National Opera House stage Wednesday and winners were revealed Thursday.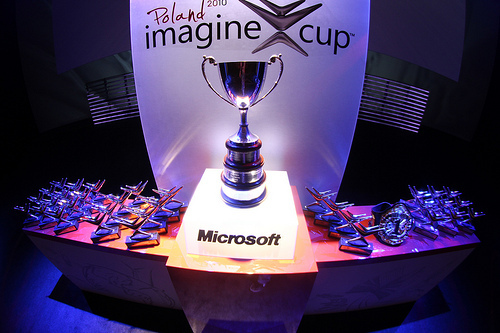 Software Design
Competitors created software that uses technology to solve the world's biggest problems. With 68 teams competing, this category is a bloodbath. Twelve were chosen as semi-finalists Sunday and the final six were announced Monday.
First Place: Thailand - Skeek
Second Place: Serbia - TFZR
Third Place: New Zealand - OneBeep
Brazil - Proativa Team
Croatia - Think Green Team
Finalist:
Finland
- Signbook
Germany - Mediator
Finalist:
Malaysia
- Team HDC
Malta - Dice
Morocco - EmsImagine
Finalist:
Singapore
- Mama-Bear
Ukraine - CoreInvader
Embedded Development
Teams used hardware and software to create projects that could literally change the way we live. Starting at 15 teams, 10 semi-finalists were announced Sunday and the final six were revealed Monday.
First Place: Taiwan - SmarterME
Second Place: Russia - MCPU
Third Place: France - GERAS
Brazil - T.M.D.
Germany - SmartTT
Japan - CLFS
Finalist:
Romania
- EcoSynthesis Finalist:
South Korea
- RU Gentle Finalist:
United Kingdom
- eyesight
United States - team vaccine
Game Design Finalists
Using existing Microsoft technology, competitors created 2-D and 3-D games that combine art and science. The final three were announced Monday.
First Place: Philippines - By Implication, Wildfire
Second Place: Belgium - NomNom Productions, Shift
Third Place: France - Green Gears Studio, Island of Nazeth
Brazil - PapaPure, Morg's Adventure
Mexico - Fomis Team, Fomis Team
Thailand - Jubjub, Junk Master
These categories presented for the judges throughout the week and winners were announced Thursday.
IT Challenge
China - WeiQiu Wen
Digital Media
Taiwan - Mirror Vita
Envisioning 2020 Award
Taiwan - Jigga-Dongxi
Interoperability Award
Jamaica - Xormis
Next Generation Web Award
South Korea - Wanna Be Alice
Touch & Tablet Accessibility Award
United States - Team Note-Taker
Windows Phone 7 Rockstar Award
United States - Beastware
Internet Explorer 8 Award
Poland - Rhea
SUBSCRIBE AND FOLLOW
Get top stories and blog posts emailed to me each day. Newsletters may offer personalized content or advertisements.
Learn more