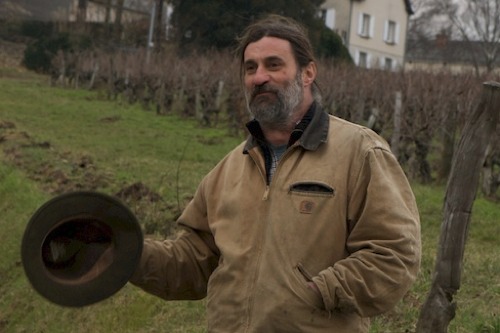 Olivier Cousin wants to let you know where his wines come from, the grapes he uses and the year they are made - except it's illegal, and now he may go to jail for it.
Nothing about his winemaking style seems criminal. His plows his Loire Valley vineyards by horse, avoids dumping chemicals into the earth, practices minimal intervention in the winery and is certified organic and Biodynamic. "They should be holding him up as a role model," says Jenny Lefcourt, his New York importer. "Instead, they're championing mediocrity over excellence."
According to Lefcourt, Cousin's problems are the result of his ongoing battles with France's AOC system, which was set up to protect regional characteristics of products like wine and cheese. As producers were allowed to use higher yields and other methods Cousin felt contributed to lesser quality, he seemed more and more like an outsider. Getting AOC approval became more difficult. "One must beat the grapes with machines, add sulfites, enzymes and yeast, sterilize and filter," complained Cousin in an open letter. "We use the old methods, like peasants."
Allowing wineries to add acid and sugar in 2003 was the final straw for Cousin. He stopped submitting his wines for AOC approval, and settled for the lesser Vin de Table classification. This demotion prevented him from putting the region, grapes and vintage on his labels.
It didn't stop his pride, however, and Cousin has used wordplay to let buyers know something about his terroir. One of his wines is called "Anjou Pur Breton," containing both his location and the local name for Cabernet Franc (Breton). Then one of his distributors put the initials AOC on his wine boxes (for Anjou Olivier Cousin). That finally got the attention of the French consumer fraud agency and Cousin now faces a possible $50,000 fine and two years in prison.
Lefcourt sees the charges partly as political persecution for Cousin's continued protests against the AOC for abandoning their standards. "The AOC is supposed to defend the authenticity of French vineyards, not bother someone who is so passionate. They've got it all backwards." To help Cousin's case, she has started an online petition which may be signed here.
SUBSCRIBE TO & FOLLOW THE MORNING EMAIL
The Morning Email helps you start your workday with everything you need to know: breaking news, entertainment and a dash of fun. Learn more