DUBLIN, Va. -- When you think of the United Auto Workers (UAW) Southwest Virginia is not the first place that comes to mind. But this region is home to many union locals. One of them is UAW Local 2069 representing 1,500 workers at the Volvo-Mack Truck Plant in Pulaski County, Virginia. 2008 has been a landmark year for Local 2069. In February the union began what turned into a seven week strike over a serious health and safety issue. The union settled its dispute with Volvo in March but shortly thereafter the company laid off 1,000 of its 2,500 workers. The strike set the stage for Local 2069's involvement in the 2008 presidential election.
I spoke with Mike Spraker, Local 2069's director of the Volunteer Community Action Program (VCAP) and its campaigning efforts. Spraker, 57, a 25-year Volvo employee, said that, "the strike unified the local's membership and solidified community support to an extent never seen before." That unity and enthusiasm has carried over to the 2008 presidential election. For the first time, he and the local are formally involved in a presidential campaign. As he put it, "it was time to put our oars in the water." And, Senator Jim Webb's visits to Local 2069 twice this year, his first trip to walk the picket line during the strike, his second the day before Obama's October rally in Roanoke haven't hurt.
Mike Spraker making calls.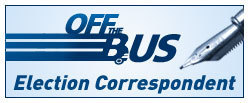 In August, the UAW pulled Spraker from the shop floor to work full-time with "The Alliance," an AFL-CIO national coalition established this year to coordinate union campaigning - another first. The Alliance includes the Communication Workers of America (CWA), the United Autoworkers (UAW), the United Steelworkers Union (USW) and others. Alliance volunteers work phone banks and canva local neighborhoods to get out the union vote for Senator Obama.
Alliance members also attend Democratic rallies throughout Virginia sporting the Alliance tee-shirts that every volunteer receives. Spraker has been to almost every Obama rally in the state. He has encouraged other union members to accompany him and "go, see and hear the man." He says that, "once they do, they find Obama an electrifying candidate." Alliance members also protest at McCain rallies. He and other Alliance members protested at Sarah Palin's rally in Salem. With a grin, he exclaimed that "[n]ever in my life have so many old ladies flipped me the bird!"
Mike invited me to visit with the volunteers who are the heart of the local's campaign at a phone banking session in the union hall's small committee room. The group was composed entirely of highly energized, friendly women who were very serious about their task. Their message was simple and polite: "This is a call from your union. Your international is supporting the Democratic ticket of Barack Obama ....We hope you will get out and vote."
Everyone insisted that I speak first with 51- year-old Earleen Miller, the single mother of two children in college. A Volvo employee for nearly a decade before she was laid off this year, she has worked tirelessly for the campaign because Obama "is all about change. His message is hitting home because he has been where I am." After the cancellation of a Roanoke rally where Miller was supposed to introduce Obama last winter due to inclement weather, her dream was to meet Obama. It came true last Tuesday in Harrisonburg when she finally got to shake his hand. When I asked about her most memorable moment of the campaign so far, she described another first. She convinced an 87-year-old woman to register and vote for the first time in her life - for Obama!
Shirley Redd, 55, a 20 year plant employee and first time campaigner, reported another interesting experience. While phone banking during the voter registration drive, she, "spoke with a man who said he and his family had been life-long Republicans. His mother had watched Obama's speech at the 2004 Democratic Convention. Her immediate response was, 'That's the man to vote for for president.' Unfortunately, she passed away before she could vote but her son will cast his vote for Obama." Redd supports Obama because she has "watched her mother struggle to pay for her prescription medications." She too spoke of a disturbing experience. Out canvassing for the first time, someone let their dogs out to chase her off the property!
I also spoke with the "dynamic duo" - sisters Wanda Anderson, 58, and Jeanette Sheffey, 57, who, following in their mother's footsteps, have been longtime Democratic activists. Anderson, a Volvo employee for 30 years, and Sheffey, a machinist at Federal Mogul in Blacksburg, who retired early, were involved in Mark Warner's gubernatorial campaign. Anderson actually convinced Warner to get out and meet rural people and met him at the plant gates one morning at 5am so he could greet Volvo workers arriving at work. The two also were involved in Jim Webb's Senate campaign. "But," Sheffey acknowledged, "this campaign is more organized and extensive than ever before." Anderson supports Obama because, "he started at the bottom and is going to the top." Sheffey remarked that "she has always believed in the Democratic party and he [Obama} is an example of party values. He's about everybody."
Sisters Wanda Anderson (grey) and Jeanette Sheffey (across from Wanda in burgundy).
The youngest volunteer, Cynthia Clark, 29, a steelworker employed at the Radford Arsenal also was a first time campaigner. Like Spraker, Clark has been working for the Alliance full-time since July. Yesterday she canvassed and made calls in Roanoke before driving one hour south to Pulaski to work the phone banks and then head home to her husband and six year old son. She supports Obama because "he is for the working family and I can relate to everything he says." She believes that her time campaigning has been well spent.. Her most disturbing moment came during a phone call when a man declared, "whoever votes for Obama does not love their country."
I'm interviewing Earleen Miller while others make calls.
Close-up of Earleen Miller while I was interviewing her.
Diane Burks, 48, a salaried Volvo employee with more than 20 years at the plant is another first time campaigner. For her, "the life he [Obama] has led allows him to understand. He is educated and can put together the big picture." She is disappointed in those who have told her they won't vote for Obama simply because he is black. Joanne Releford, 55, who worked for 20 years at Volvo said that, "Obama seems like someone who can talk to us on our level without being condescending. Barack is someone I really want to vote for because he's for me."
Volunteers across the country will continue The Alliance's Get Out The Vote (GOTV) effort on Tuesday. They will be phone banking, leaving hang tags on doors and driving members to the polls. Most indicated that they think Obama has a good chance in the region. Some, including Dana Spraker, Mike's wife, believe that, "we'll see a reverse Bradley effect here. They'll end up calling it the Obama Effect!"
FOLLOW HUFFPOST