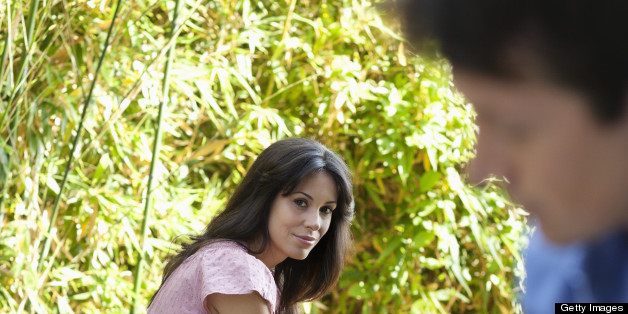 It all started with a conversation with my mother. I mentioned off-handedly that I was going to meet an ex-boyfriend for dinner, and she got simply hysterical at the news. She said, "Aimee, you've got to be kidding me! This is the same person that broke up with you at a park n' ride, who then dated your friend and lied about it, and then told you that you weren't as fun as his friend. And you are going to meet him for dinner? What's wrong with you?"
It wasn't until she blatantly laid out the facts that I started to think, What is wrong with me? Why would I meet this person for dinner?
At first, I thought that I was able to forget the past and be the bigger person and not hold a grudge against someone who hurt me. And then, it came to me: In some weird and twisted way, I like to chase after unavailable men. Men that aren't interested in relationships or making me a priority are the ones I find myself attracted to the most. I really think it's the thrill of the chase and all of the highs and lows associated with that. Logically, I know that this is futile, that my relationships with these men will never amount to anything, but I still continue to date them. There are definitely some perks to dating the unavailable man: you have a lot of free time to yourself; if you make plans with your friends instead of them, they don't seem to mind; and they often don't make plans for the weekend until 5 p.m. Friday night, so they always keep you wondering if you have plans or not, like a fun guessing game.
I am an educated woman and am currently completing a doctorate program, but I would still give myself an "F" in the relationship department. Why is it that in my mid-thirties, I still need my mother to point out the obvious to me? In fact, when I accepted his dinner invitation, I didn't even think about the things that he had done and how he treated me. I don't think I am alone (I hope) with this. I have seen my best friend of 16 years pick the same type of man over and over again. Men who don't appreciate her beauty, craftiness and passion for her art, and these are things that should be blatantly obvious to anyone she meets.
When a man is completely available and wants to make our relationship a priority, I always think that something is wrong with him, that he must be needy and insecure because it's just too easy. If there's no chase going on, where's the fun in that? I definitely get angry at myself that part of my self-worth is tied into male adoration. If I am getting attention from an unavailable man, then it must mean that I am worthy in his eyes. I understand that this has nothing to do with the unavailable man, that I need to focus on building my self-esteem and realize that I am worthy of a relationship with someone who wants to be with me. And I am working on that, believe me.
My question for you is this: How did you stop chasing the unavailable man? Because honestly, I'm tired of running.