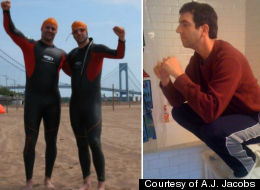 I will admit, I'm addicted to self-improvement. The thing is, there's so damn much about myself to improve.

I started with trying to improve my mind. After college, I felt my IQ gently ebbing away. I decided on a radical fix: I would read the entire Encyclopedia Britannica and learn everything I could. It was a fascinating experience, which I chronicled in my first book. It was also painful, especially for those around me. (My wife started to fine me $1 for every irrelevant fact.)

After that, I took on the spirit. I knew nothing about religion, so I decided to learn about the Bible by diving right in and living it. I spent a year following all the rules of the Bible, from the Ten Commandments to growing a mammoth, Ted Kaczynski-like beard. Again, I loved it, wrote a book about it, and even became attached to the beard; it was like a member of the family.

And now, the body. Three years ago, I was hospitalized with a freak case of tropical pneumonia. My wife, who was already concerned about my mushy, easily-winded body, sat me down, and said: "I don't want to be a widow in my forties."

So I undertook a quest to remake every part of my body. Here, you'll see some photos from that adventure. Sorry in advance about the "before" picture.
At age 40, I got tired of my python-that-swallowed-a-goat type of body -- my wife was no fan of it either -- so I decided to take on a quest for maximal health from head to toe.   Over the course of two years, I revamped everything in my life, including diet, exercise, sleep, stress level, posture, breathing, sex, chewing, you name it.   By the end, I had lost my four-months-pregnant belly and doubled my energy level and, to a certain extent, improved my sex life (there are limits when one has three young kids).

One crucial health trick: Be kind to your older self. All of us have two warring selves; the Present Self that wants that frosted apple strudel Pop-Tart. And the Future Self that regrets eating that frosted apple strudel Pop-Tart. Studies show that if you are more aware of the future self, you'll make better decisions. I downloaded an iPhone app that digitally aged my photo, then I taped that picture to the wall. Whenever I want that second helping or to skip a workout, I look at Old A.J. and put down the fork or lace up the sneakers.

I declared war on sedentary life. I did pull-ups on street signs and literally ran my errands. I even stood during movies.   But perhaps I'm proudest of my makeshift treadmill desk, a way to get my butt out of my well-loved Aeron chair and moving almost constantly throughout the day. It took me about 1,200 miles to write this book. You don't have to go to extremes like I did, though. Any movement is good. Simply getting up every hour to walk around helps prevent heart disease.

As a human guinea pig, I sampled every exercise program I could, including Crossfit, yoga, upside down yoga and Strollercizing, which you see above. This consists of pushing a stroller through Central Park while stretching, jogging and getting stared at by confused onlookers.

One of the big surprises? That I had been going to the bathroom incorrectly for all my life. Turns out, humans were built to squat, not to sit. Here I am on Nature's Platform, an apparatus that invites squatting above the toilet in the caveman fashion. This makes things go much faster, and helps prevent hemorrhoids. The downside? It makes reading more of a challenge. Not for everybody.

When I got tired of the staying indoors at the gym, I tested the polar opposite type of exercise: The Caveman Workout. I sprinted shirtless and shoeless through Central Park, only wincing at the occasional shard of glass stuck in my foot.

After a visit to a urologist who diagnosed me with low testosterone, an awkward affliction for an "Esquire" writer, I started popping testosterone-boosting pills (against my wife's wishes). While I did feel a little more energetic, a little more interested in the models in "Esquire", a little more angry when a suit cuts in line at the Metrocard machine, I'm not sure it's worth it if it's going to result in another common effect of T: hair loss.

You've heard that we should wear sunscreen. But truth is, we should wear a lot of sunscreen. Americans under-apply the stuff by 50 percent. The American Academy of Dermatology suggests you use a shot-glass size amount of sunscreen every two to four hours. That's a whole bunch of sunscreen. A cheaper and less greasy solution is to wear sun-protective shirts (dark colors are better for shielding UV rays, for instance).

Here I am with my trainer Tony Willging, after completing my first triathlon, which was a success despite the three mouthfuls of microbe-filled Staten Island beach water swallowed during the swim.
For more by A.J. Jacobs, click here.
For more personal health stories, click here.