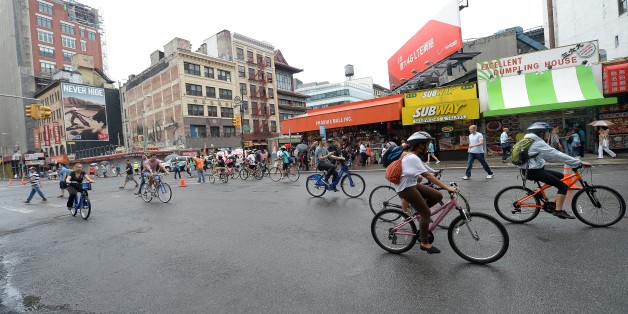 This past weekend marked the start of Summer Streets, in which nearly 7 miles of New York City are open to pedestrians for three consecutive Saturdays in August. The program is a Department of Transportation (DOT) initiative to simply encourage both physical activity and the use of more sustainable methods of transportation.
While perhaps considered progressive urban policy in New York, cities such as Bogota have had open street initiatives for decades. Since 1974, Bogata has been promoting Ciclovia, in which 97km of city streets are kept free from motorized traffic and left open for pedestrian use on every Sunday and bank holiday. While the initiative costs the city $1.7m annually,analysis published in the Lancet suggests that nearly 1 million people use the pathways regularly for exercise and the program offers a 4:1 return on investment in terms of net annual savings of health costs.
New York's program resembles Bogota's in perhaps both good ways and bad. Demographic analysis of Ciclovias shows that the program caters more towards young middle and high-income residents of Bogata moreso than any other demographic. By examining the geography of Summer Streets -- Park Avenue from 72nd Street to the Brooklyn Bridge--I have to guess the same is true for New York. While I absolutely applaud the DOT for supporting such a program, as a physician who practices medicine in Washington Heights, my gut feeling is that the streets are open but are not inclusive to those who need it most. According to Community Health Profiles compiled by the New York City Department of Health and Mental Hygiene (NYCDHMH), about 50 percent of residents in Washington Heights and Inwood don't exercise at all, which is significantly more than the rest of Manhattan (around 30%). My patient population in Washington Heights and Inwood have also been shown to have increased rates of obesity and diabetes as compared to residents in the rest of Manhattan.
Because of these health inequities, city planners and policy makers have to make a concerted effort to target this disparity, rather than perpetuate it. The distribution of NYC City Bikes docking stations also demonstrates a glaring geography of difference.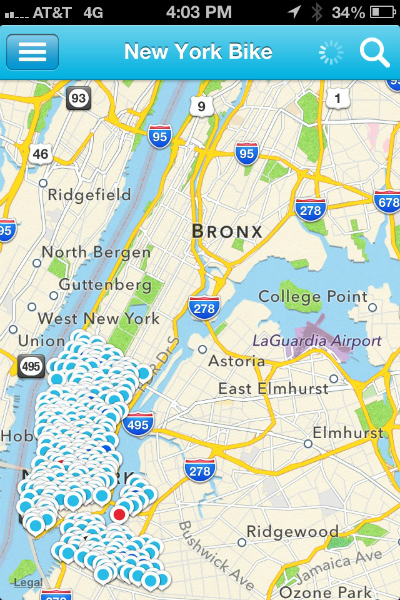 An analysis by the Wall Street Journal suggested that the neighborhoods with access to City Bikes are more affluent with fewer minority residents than the rest of the city -- neighborhoods with a median income of about $73,000 compared with $48,300 in the rest of the city.
Gil Penalosa, the former head of recreation in Bogata (and brother of former Mayor Enrique Penalosa), who is often credited with popularizing the Ciclovia movement is sensitive to these issues of access.
"It is important to extend the route. Most people participate if the program is within 10-15 minutes from their home," said Penalosa. "If NYC had a route covering all the city it would have many times more people participating and it would integrate the city."
Now that the city has proof of concept of Summer Streets, reaching over 250,000 individuals last year, DOT and the NYCDHMH can start focusing on the next stage of roll out. Penalosa feels that as a part of that roll out, NYC can develop even a stronger link between summer streets and public health.
"As an example it can have stations every other mile where people can get evaluated on weight, BMI, get nutritional recommendations, register and follow up."
The initiative offers a great prospect to impact the health of all New Yorkers, but only if it's kept open and inclusive for all New Yorkers.
SUBSCRIBE AND FOLLOW
Get top stories and blog posts emailed to me each day. Newsletters may offer personalized content or advertisements.
Learn more