Backpack Block Party! is on a quest to find the backpack of your dreams. Let's meet a contender.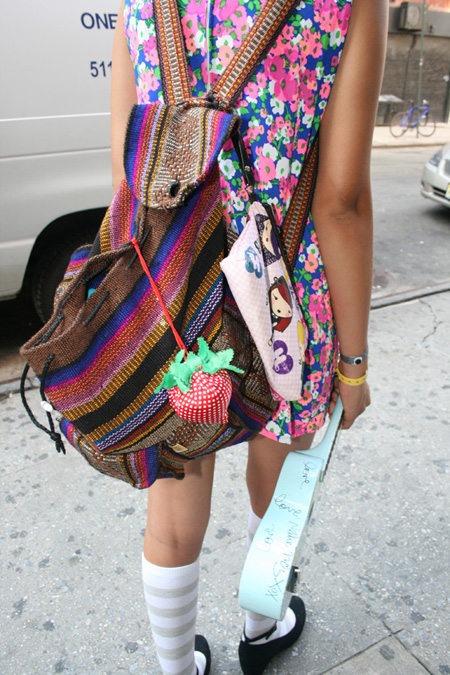 Where did you find your backpack?
Well, I love the tribal print of the Aztecs, so in Mexico for my vacation, I thought it would be a perfect idea to get one there! It was super pricey at first but we got the guy to lower the price to $25... not bad, I guess.
Is this the backpack of your dreams?
I can't say it is the backpack of my dreams, but it is a very special backpack that holds memories and a cute pattern! The backpack of my dreams will come to me; I'll know it when I see it!
Whats your favorite thing about this backpack?
I really love the long straps so it kind of hangs low on you, and instead of a zipper it has a string you pull to tighten it. It feels really earthy and kind of rough like tweed, but not as scratchy. I love that it makes the backpack feel more organic than ones you can buy at Target or someplace like that.
If you were a backpack, whose back would you live on?
Well, it wouldn't really matter who the person is as long as they take good care of me! But if it had to be someone special, it would be Greyson Chance. I just hope that when he goes backpack shopping, I stand out of the crowd from all of the other girl backpacks waiting for a chance at the "Grance."
Olivia is a member of SUPERCUTE!, and the backpack of her dreams will come to her.
SUBSCRIBE TO & FOLLOW LIFESTYLE
We're basically your best friend… with better taste. Learn more