Backpack Block Party! is on a quest to find the backpack of your dreams. Let's meet a contender!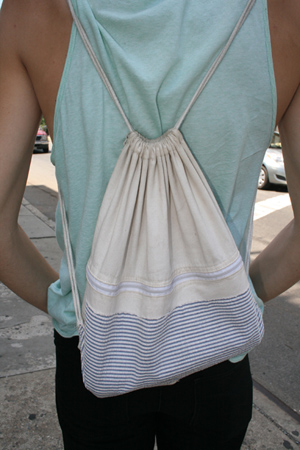 Where did you find your backpack?
I found my backpack at a free clothing exchange at school. I think it was originally for a sponsored event or something like that because it was covered in all sorts of corporate logos. I took a swath of seersucker fabric from a pair of old pajamas and sewed it onto the bag to cover them up. I like repurposing old clothing for new uses!
Is this the backpack of your dreams?
I suppose I have a couple dream backpacks. I really do like bags because I like to carry things around with me. Maybe it's my 'be prepared' instincts carried over from my boy scout days. One dream bag that I still haven't found is an old worn leather messenger bag, simple, with two straps and buckles and an adjustable shoulder strap. I can picture it perfectly in my mind. I know it's out there somewhere.
What's your favorite thing to keep in your backpack?
Oh that's a tough one. But I guess the thing I carry around with me everywhere I go is my glass water bottle. I love drinking from glass, it makes water taste so delicious!
If you were a backpack, whose back would you live on?
One of René Redzepi's foragers -- it would be the coolest thing to get to see the wild landscapes of Denmark and carry foraged vegetables, herbs, shoots, sea plants, and other stuff like that. I'm pretty sure he or she is a surfer too.
Josh is a food blogger and the owner of the backpack of his dreams (and still dreams of more!).