Last October, Panthera gathered stories from our scientists, researchers, and partners to document their favorite encounters with big cats in the wild. This month, read world-renowned conservationist and Panthera Vice President George Schaller's tale of a night spent under falling snow to capture the rare sight of a female snow leopard in the wild.
A Night in the Wild
by Dr. George Schaller
Like a wisp of grey cloud, a slight movement focused my attention as I scanned the steep slope beside me at sunset, up past scree and rock outcrops, to the base of a cliff. A snow leopard reclined on a flat bounder, blending into the rocks so well that she seemed almost a part of them. I recognized her from the facial markings, a female I had seen in the valley before.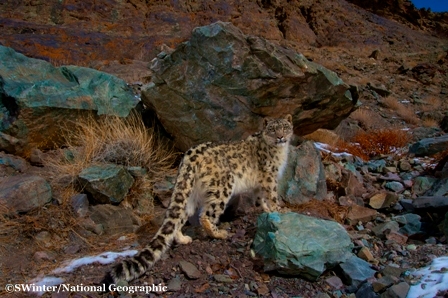 I angled up the slope toward her. She had a kill, a goat, and was reluctant to leave. As I approached, she flattened into the rock, then snaked off her vantage point to become a fleeting shadow, a ghost creature, molding herself into the terrain so completely that she almost vanished. She stopped by a boulder and peered back at me, only the top of her head visible.
Then she stalked back to her kill, and I was elated by her boldness. I stopped 150 feet from her and unrolled my sleeping bag. From its warmth, I watched her feed until darkness engulfed us. It began to snow, large moist flakes that soaked through my sleeping bag. By dawn, four inches of snow had fallen. As I rolled up my sodden belongings, I envied the snow leopard who sat protected and dry beneath a rock overhang. I descended the slope, tired and chilled, but exulted over my night with a snow leopard.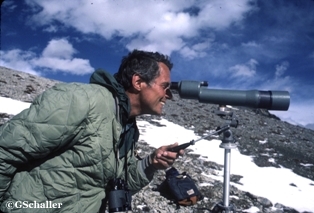 Dr. George Schaller is a field biologist and Vice President of Panthera. Spending most of his time in the field in Asia, Africa, and South America, he has studied and helped to protect animals as diverse as the mountain gorilla, jaguar, giant panda, tiger, lion, wild sheep and goats of the Himalaya. His work has inspired generations of young biologists throughout the world. His awards include the International Cosmos Prize (Japan), the Tyler Prize for Environmental Achievement (USA), and the Indianapolis Price (USA).
SUBSCRIBE TO & FOLLOW THE MORNING EMAIL
The Morning Email helps you start your workday with everything you need to know: breaking news, entertainment and a dash of fun. Learn more