By Andrea Heydlauff, Managing Director of Panthera
Wildlife TV shows have launched an ever-growing list of 'wildlife heroes' who shock and awe viewers running from charging lions, or holding up salmon heads among hungry grizzlies. While these network darlings garner serious attention from their fans they rarely do much for conservation, no matter what they tell the viewer (see last week's blog for a good example). Nor are they interested in sharing their spotlight with the real heroes who risk everything -- even their lives -- to really save wildlife.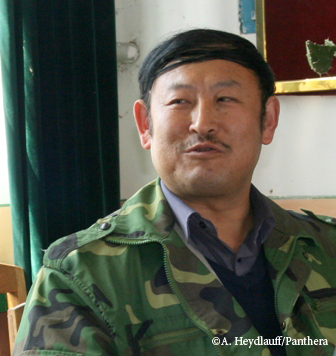 Take Mr. Dong. He's a Chinese national living in one of the world's remotest corners, the North East Chinese province of Heilongjiang bordering the Russian Far East. This is supposed to be Siberian tiger country but tigers are losing the battle here, and fast. Poachers set thousands of wire snares each winter to hunt wildlife like deer and boar to sell in markets. But these simple snares are death traps that catch and kill anything that walks in their path, including tigers. Mr. Dong is a supervisor with the Wupao Forestry Bureau, and while his day job is managing the forests and monitoring any illegal activity within them, his 24-hour a day job is saving tigers. He has never seen a tiger, but with eyes shining, he says that he has to do everything he can to help China's tigers survive. For him, that means stopping the poachers.
Mr. Dong is good at his job. So good in fact, that in 2006 four armed poachers came to his home and beat him viciously with iron bars and glass bottles. Miraculously he survived but only after spending several weeks in the hospital. Years later, the scars are still visible, a constant reminder of what he almost lost. But Mr. Dong tells me that he would have lost far more if he simply sat back, and didn't help the fight to save wild tigers. Less than three months later, and despite his wife pleading with him not to return to his life-threatening job, Mr. Dong was back in the forest, more determined than ever. While his commitment continues to be driven by passion, he explains that it is also now fueled by anger. Not only does Mr. Dong continue to risk his life in protecting the tiger, he uses his own money, tens of thousands of Yuan, to do so. Whether it's driving vast distances in his own truck to help track tiger signs, or informing local and surrounding communities about how tigers can be protected, he believes saving tigers is a priceless investment. Mr. Dong says "people think I'm profiting from this or that I must simply be crazy... but, really I'm just driven, at all costs, to do the work I'm doing".
In many countries around the world, working to save wildlife is viewed as a lowly position with little to no recognition accompanied by a meager and inconsistent paycheck. Field jobs are often entry-level positions in remote or inhospitable areas, with the goal of moving up and out into the city for a more prestigious office job. While Mr. Dong may feel he leads a lonely existence in North East China, he's not alone. There are countless others just like him, the world over, who are the real conservation heroes and the champions for wildlife. To the extraordinary men and women young and old, who have overcome personal and societal roadblocks, who may barely earn a living, but who remain steadfast in their resolve to protect the Earth's animals, we are awed by your commitment. You are the real stars. And while you do your life's work often alone or in the shadows, regardless of any spotlight that may exist, we know it should shine bright on you.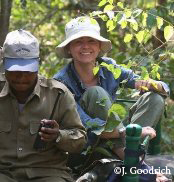 Andrea Heydlauff is the Managing Director at Panthera, the leading global nonprofit organization devoted to saving the world's wild cat species from the diminutive black-footed cat of southern Africa to the massive tiger of Asia. Andrea has been working to conserve wildlife for almost a decade, involving local communities from the American Southwest to Asia.
SUBSCRIBE TO & FOLLOW THE MORNING EMAIL
The Morning Email helps you start your workday with everything you need to know: breaking news, entertainment and a dash of fun. Learn more