Alaska Republican Senate candidate Joe Miller, an outspoken critic of federal funding, has in the past obtained federal farm subsidies in the amount of more than $7,000 for Kansas farmland, an Alaska Dispatch investigation has revealed.
Farm subsidies became an issue in Miller's campaign last week when an Alaska blogger incorrectly reported that he'd collected thousands of dollars in connection with a 1,000-acre plot of land near Delta Junction that Miller himself describes as "overgrown." Miller and his staff denied those accusations to Alaska Dispatch. Until Monday night, the campaign had also dodged questions as to whether Miller had received federal farm subsidies for land in Kansas, where he once lived.
After Alaska Dispatch received Miller's farm subsidy records under the Freedom of Information Act and told the Miller campaign about them on Monday, Miller's staff confirmed he received federal payments for 140 acres of cropland he owned in Kansas between 1990 and 1998.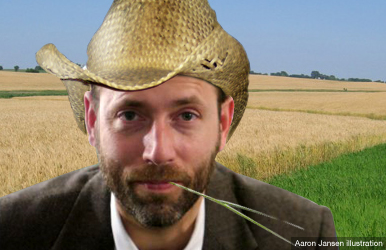 "Like the vast majority of farmers in that region, Joe received payment from the USDA in exchange for managing his crops according to government standards," said campaign spokesman Randy DeSoto in an e-mail Monday night.
The subsidies -- ranging from $2 to $1,621 -- were for sorghum and wheat deficiencies, an agriculture conservation program, disaster assistance, and production flexibility on wheat on sorghum, according to payment records from the Department of Agriculture.
"The growth of stimulus programs, the growth of basically government bailouts to industries that are failing, it's not the American way," Miller told Real Clear Politics earlier this month. "It's not the free market way. And it's killing the competitive edge."
Farm subsidies are a federal stimulus program started during the Great Depression to help failing farms. Citizens Against Government Waste has for years been saying almost exactly the same thing about farm subsidies that Miller now says about other federal aid programs.
SUBSCRIBE AND FOLLOW
Get top stories and blog posts emailed to me each day. Newsletters may offer personalized content or advertisements.
Learn more